noun
The definition of gloss is a bright or polished appearance.

An example of gloss is a sheen from shiny lipstick.
verb
Gloss is defined as to make or become shiny, or to hide.

An example of gloss is to apply shiny lipstick; gloss the lips.
An example of gloss is to try to cover up a lie; gloss over the truth.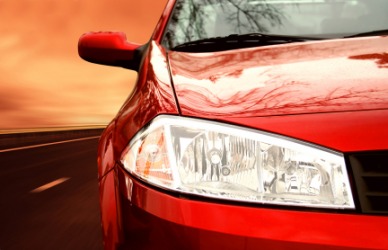 A car with a high gloss finish.
---
gloss- definition by Webster's New World
noun
the brightness or luster of a smooth, polished surface; sheen
a deceptively smooth or pleasant outward appearance, as in manners or speech
lip gloss
Origin: probably ; from Scandinavian as in Norwegian dialect, dialectal glosa, to gleam: for Indo-European base see glass
transitive verb
to give a polished, shiny surface to; make lustrous

Origin: a blend of vt. 1 & gloss

to smooth over or cover up (an error, inadequacy, fault, etc.); make appear right by specious argument or by minimizing: often with over
intransitive verb
to become shiny
noun
words of explanation or translation inserted between the lines of a text

a note of comment or explanation accompanying a text, as in a footnote or margin
a collection of such notes

a false or misleading interpretation
Origin: Middle English glose ; from Old French or Midieval Latin glosa, for Classical Latin glossa, foreign or strange word needing explanation ; from Classical Greek glōssa, origin, originally , tongue, language ; from an unverified form glōchia, pointed object ; from glochis, point ; from Indo-European base an unverified form glogh-, thorn, point from source Old Church Slavonic gloge, thorn
transitive verb
to furnish (a text) with glosses
to interpret falsely
intransitive verb
to annotate a text
Webster's New World College Dictionary Copyright © 2010 by Wiley Publishing, Inc., Cleveland, Ohio. Used by arrangement with John Wiley & Sons, Inc.
---
gloss- definition by American Heritage Dictionary
noun
A surface shininess or luster.
A cosmetic that adds shine or luster.
A superficially or deceptively attractive appearance.
verb
glossed
,
gloss·ing
,
gloss·es
verb
, transitive
To give a bright sheen or luster to.
To make attractive or acceptable by deception or superficial treatment: a resumé that glossed over the applicant's lack of experience. See Synonyms at palliate.
verb
, intransitive
To become shiny or lustrous.
Origin: Perhaps of Scandinavian origin; akin to Icelandic glossi, a spark; see ghel-2 in Indo-European roots.
noun
a. A brief explanatory note or translation of a difficult or technical expression usually inserted in the margin or between lines of a text or manuscript.

b. A collection of such notes; a glossary.

An extensive commentary, often accompanying a text or publication.
A purposefully misleading interpretation or explanation.
transitive verb
glossed
,
gloss·ing
,
gloss·es
To provide (an expression or a text) with a gloss or glosses.
To give a false interpretation to.
Origin: Middle English glose, from Old French, from Medieval Latin glōsa, from Latin glōssa, foreign word requiring explanation, from Greek, tongue, language.
Related Forms:
gloss-
Variant of glosso-
tongue, tongue and: glossitis
of words or language: glossolalia
Origin: Modern Latin ; from Classical Greek glōssa: see gloss