rubric

ru·bric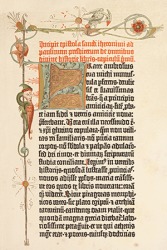 An example of a rubric in an engraving page of the Gutenberg Bible printed in 1455.
noun
The definition of a rubric is the use of red lettering to highlight something on a page, or a standard for grading or scoring knowledge or performance.

An example of rubric is decorative lettering and red chapter headings and initial letters in religious books printed in the 15th century.
An example of a rubric is a specific scoring tool to grade a student's progress based on the learning objectives for the student.
---
rubric
in early books and manuscripts, a chapter heading, initial letter, specific sentence, etc. printed or written in red, decorative lettering, etc.
any heading, title, etc., as of a chapter or section
a direction, as in a prayer book, for conducting religious services
an explanatory comment, or gloss
the title or a heading of a law
an established custom or rule of procedure
Origin of rubric
Middle English
rubryke
from Middle French
rubriche
from Classical Latin
rubrica,
red ocher, hence title (esp. of a law) written in red, rubric from
ruber,
red
inscribed in red

Archaic

red or reddish
---
rubric
noun
a. A class or category: "This mission is sometimes discussed under the rubric of 'horizontal escalation' … from conventional to nuclear war" ( Jack Beatty )

b. A title; a name.

A part of a manuscript or book, such as a title, heading, or initial letter, that appears in decorative red lettering or is otherwise distinguished from the rest of the text.
A title or heading of a statute or chapter in a code of law.
Ecclesiastical A direction in a missal, hymnal, or other liturgical book.
An authoritative rule or direction.
A short commentary or explanation covering a broad subject.
Red ocher.
adjective
Red or reddish.
Written in red.
Origin of rubric
Middle English
rubrike
heading, title
from
Old French
rubrique
from
Latin
rubrīca
red chalk
from
ruber
rubr-
red
; see
reudh-
in Indo-European roots.
Related Forms:
---
rubric

---