patina

pa·ti·na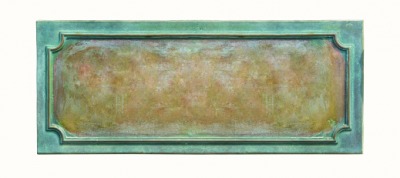 A piece of copper begins to develop a patina.
noun
The definition of a patina is a crust or film, that happens from use or exposure to oxygen.

An example of a patina is a blueish-green film on aged copper.
An example of a patina is a warm tone on silver after many years of use.
---
patina
noun
pl.
-·nae·
var. of paten
Origin of patina
Classical Latin
a fine crust or film on bronze or copper, usually green or greenish-blue, formed by natural oxidation and often valued as being ornamental
any thin coating or color change resulting from age, as on old wood or silver
Origin of patina
French from It, origin, originally , tarnish (on a metal plate), probably from L, pan: see patella
---
patina
noun
pl.
pat·i·nae,
Origin of patina
Medieval Latin
from
Latin
plate
; see
paten
.
also pa·tine
noun
A thin greenish layer, usually basic copper sulfate, that forms on copper or copper alloys, such as bronze, as a result of natural corrosion or chemical treatment.
The sheen on a surface, such as one made of wood, produced by age and use.
A superficial exterior layer; a coating: "Everything bore that dull patina of grime that speaks of years of neglect" ( Amitav Ghosh )
A superficial impression, especially one considered as added or acquired: uneven sidewalks that lend a patina of charm to the neighborhood's streets.
Origin of patina
Italian
from
Latin
plate (from the incrustation on ancient metal plates and dishes)
; see
paten
.
Usage Note: Most English words borrowed from Italian follow the stress pattern of that language and are stressed on the second-to-last syllable. There are many exceptions to this rule, however, and among them is the traditional pronunciation of patina, which has emphasis on the first syllable, so it rhymes with the phrase sat in a. This pronunciation remains the preferred pronunciation in Britain. But patina also developed a pronunciation that follows the pattern of other -ina words in English, such as cantina. In the 2009 survey, not only did 90 percent of the Usage Panel find this newer pronunciation acceptable, 60 percent preferred it.
---
patina

Noun
(countable and uncountable, plural patinas)
Hyponyms
(color or incrustation which age and wear give to objects): verdigris
Adjective
(not comparable)
Of a green colour, tinted with grey, like that of bronze patina.
Origin
From Latin patina ("dish, pan").
---