buff

buff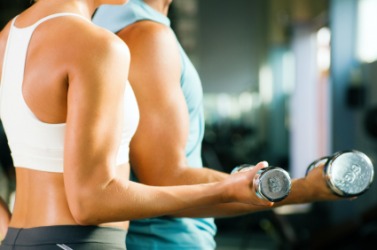 A buff couple.
adjective
The definition of buff is slang to describe a muscular person.

An example of buff is Jillian Michaels, the celebrity personal trainer.
noun
A buff is a person who is a big fan of or knowledgeable about something.

An example of buff is someone with their house decorated in David Lynch film posters.
verb
Buff means to smooth, clean or shine by rubbing.

An example of to buff is using a many textured foam block to smooth and shine finger nails.
---
buff
a heavy, soft, brownish-yellow leather made from the skin of the buffalo or from other animal hides

Historical

a military coat made of this leather

a stick or small block covered with leather or cloth, used for cleaning or shining
buffing wheel

a dull brownish-yellow color

Informal

a devotee or enthusiast, as of a particular area of interest: a jazz buff
Origin of buff
earlier
buffe,
buffalo from French
buffle
from Italian
bufalo,
buffalo
made of buff
of the color buff

Slang

physically, often sexually attractive, as by being pleasingly fit and muscular or having a sexually desirable figure
to clean or shine with a buff or treated cloth
to make smooth or soft like buff
a blow
Origin of buff
Middle English and Old French
buffe
: see buffet
---
buff
noun
A soft, thick, undyed leather made chiefly from the skins of buffalo, elk, or oxen.
A military uniform coat made of such leather.
A pale, light, or moderate yellowish pink to yellow, including moderate orange-yellow to light yellowish brown.
A piece of soft material, such as velvet or leather, often mounted on a block and used for polishing.
adjective
Made or formed of buff: a buff jacket.
Of the color buff.
buff·er, buff·est Slang Having good muscle tone; physically fit and trim: buff athletes lifting weights at the gym.
transitive verb
buffed, buff·ing, buffs
To polish or shine with a piece of soft material.
To soften the surface of (leather) by raising a nap.
To make the color of buff.
Origin of buff
From
obsolete
buffle
buffalo
from
French
buffle
from
Late Latin
būfalus
; see
buffalo
.
noun
Informal
One who is enthusiastic and knowledgeable about a subject: a Civil War buff.
Origin of buff
From the buff-colored uniform worn by New York volunteer firemen in the 19th century, originally applied to an enthusiast of fires and firefighting
---
buff

---