noun
The definition of a buffalo is a large wild ox with horns that point to the back.

An example of a buffalo is the water buffalo.
verb
To buffalo is to confuse or deceive.

An example of buffalo is to convince someone to get a loan with a very high interest rate by suggesting that the interest rate will be low.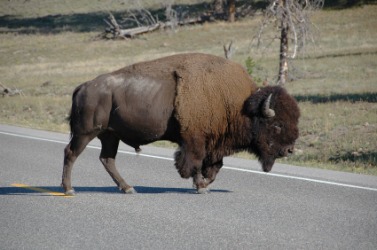 American buffalo crossing a road.
---
buffalo definition by Webster's New World
noun
pl. buffaloes, buffalo, buffalos
any of various wild oxen, sometimes domesticated, as the water buffalo of India or Cape buffalo of Africa
☆

popularly

the American bison
☆ a robe made of buffalo skin
☆ buffalo fish
Origin: Italian bufalo ; from Late Latin bufalus, variant, variety of bubalus, wild ox ; from Classical Greek boubalos, buffalo, antelope ; from bous, ox, cow
city in W N.Y., on Lake Erie & the Niagara River: pop. 293,000
Origin: translated, translation of the name of a Seneca Indian who lived there
Webster's New World College Dictionary Copyright © 2010 by Wiley Publishing, Inc., Cleveland, Ohio. Used by arrangement with John Wiley & Sons, Inc.
---
buffalo definition by American Heritage Dictionary
noun
pl.
buffalo
buffalo
or
buf·fa·loes
or
buf·fa·los
a. Any of several oxlike Old World mammals of the family Bovidae, such as the water buffalo and African buffalo.

b. The North American bison, Bison bison.

The buffalo fish.
transitive verb
buf·fa·loed
,
buf·fa·lo·ing
,
buf·fa·loes
To intimidate, as by a display of confidence or authority: "The board couldn't buffalo the federal courts as it had the Comptroller" (American Banker).
To deceive; hoodwink: "Too often . . . job seekers have buffaloed lenders as to their competency and training" (H. Jane Lehman).
To confuse; bewilder.
Origin: Italian bufalo or Portuguese or Spanish búfalo, from Late Latin būfalus, from Latin būbalus, antelope, buffalo, from Greek boubalos, perhaps from bous, cow; see gwou- in Indo-European roots.
Word History:
The buffalo is so closely associated with the Wild West that one might assume that its name comes from a Native American word, as is the case with the words
moose
and
skunk.
In fact, however,
buffalo
can probably be traced back by way of one or more of the Romance languages through Late and Classical Latin and ultimately to the Greek word
boubalos,
meaning "an antelope or a buffalo." The buffalo referred to by the Greek and Latin words was of course not the American one but an Old World mammal, such as the water buffalo of southern Asia. Applied to the North American mammal,
buffalo
is a misnomer,
bison
being the preferred term. As far as everyday usage is concerned, however,
buffalo,
first recorded for the American mammal in 1635, is older than
bison,
first recorded in 1774.
A city of western New York at the eastern end of Lake Erie on the Canadian border. It is a major Great Lakes port of entry and an important manufacturing and milling center. Population: 276,000.
Related Forms:
Bufˌfa·loˈni·an

adjective

& n.
The American Heritage® Dictionary of the English Language, 4th edition Copyright © 2010 by Houghton Mifflin Harcourt Publishing Company. Published by Houghton Mifflin Harcourt Publishing Company. All rights reserved.
---
buffalo - Cultural Definition
City in western New York, on Lake Erie and the Niagara River.
Niagara Falls is northwest of Buffalo.
buffalo
Variant of buffalo
noun
pl. buffaloes, buffalo, buffalos
any of various wild oxen, sometimes domesticated, as the water buffalo of India or Cape buffalo of Africa
☆

popularly

the American bison
☆ a robe made of buffalo skin
☆ buffalo fish
Origin: Italian bufalo ; from Late Latin bufalus, variant, variety of bubalus, wild ox ; from Classical Greek boubalos, buffalo, antelope ; from bous, ox, cow