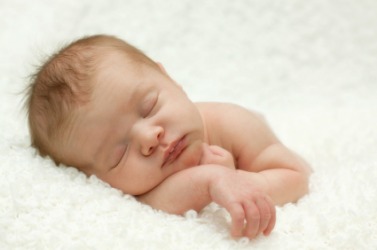 What can be smoother than this baby's skin?
adjective
The definition of smooth is even, flat and not rough.

An example of smooth is a baby's skin.
An example of smooth is a gravy with no lumps.
verb
Smooth is defined as to get rid of wrinkles, lumps or ridges in something.

An example of smooth is to iron a piece of clothing.
---
smooth
having an even or level surface; having no roughness or projections that can be seen or felt
having its projections leveled by wear: a smooth tire

having an even consistency; without lumps: a smooth paste
even, calm, or gentle in flow or movement: a smooth voyage
free from interruptions, obstacles, difficulties, etc.: smooth progress
not easily agitated or ruffled; calm; serene: a smooth temper
free from hair, beard, etc.
pleasing to the taste; not sharp or harsh; bland
having an easy, gentle, flowing rhythm or sound
suave, polished, or ingratiating, esp. in a flattering, insincere way

Informal

polished; competent: a smooth dancer

Slang

very pleasant, attractive, or enjoyable

Mech.

having relatively little friction

Phonet.

articulated without aspiration
Origin of smooth
Middle English
smothe
from Old English
smoth
, for earlier
smethe
from Germanic an unverified form
smanthi
from Indo-European an unverified form
som-
, together from base an unverified form
sem-
, together, same
to make level or even
to remove the lumps from
to remove wrinkles from by pressing
to free from interruptions, difficulties, etc.; make easy
to make calm or serene; soothe
to make less crude; polish or refine
something smooth; smooth part
an act of smoothing
smooth away
to remove (difficulties, obstacles, etc.)
smooth down
to make or become smooth, or even, level, calm, etc.
smooth over
to relieve or resolve the tension in (a conflict or situation)
---
smooth
adjective
smooth·er, smooth·est
a.

Having a surface free from irregularities, roughness, or projections; even. See Synonyms at

level

.

b. Free from waves or disturbances; calm: The lake is smooth today.

a. Free from hair, whiskers, or stubble: felt his smooth cheek after the close shave.

b. Having a short dense flat coat. Used of dogs.

a. Having a fine texture: a smooth fabric.

b. Having an even consistency: a smooth pudding.

c. Having an even or gentle motion or movement: a smooth ride.

Having no obstructions or difficulties: a smooth operation; a smooth trip.
Easy-going; serene: a smooth temperament.
Not sharp or bitter in taste: a smooth wine.
Delicately pleasing to the ear; not harsh or grating: a smooth voice.
Ingratiatingly polite and agreeable: known for his smooth remarks.
verb
smoothed, smooth·ing, smoothes
verb
transitive
To make (something) even, level, or unwrinkled: smoothed the fabric with an iron.
To rid of obstructions, hindrances, or difficulties: a real estate agent who smoothed the process of applying for a mortgage.
To soothe or tranquilize; make calm: The president tried to smooth over the hurt feelings of the disputing factions.
To cause to appear less harsh or severe than is the case: Don't try to smooth over their faults.
verb
intransitive
To become smooth.
noun
The act of smoothing.
A smooth surface or part.
Origin of smooth
Middle English
smothe
from
Old English
smōth
Related Forms:
---
smooth

---