graceful

grace·ful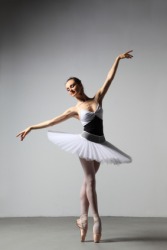 A ballet dancer is graceful.
adjective
The definition of graceful is something that is beautiful, well formed and moves with ease.

An example of something that is graceful is a ballet dancer.
---
graceful
having grace, or beauty of form, composition, movement, or expression; elegant
---
graceful
adjective
Showing grace of movement, form, or proportion: "Capoeira is a graceful ballet of power and control, artists kicking and jumping in synchronized movement" ( Alisa Valdes )
Related Forms:
---
graceful

Adjective
(comparative more graceful, superlative most graceful)
Having or showing grace in movement, shape, or proportion.

She is a graceful dancer.
---