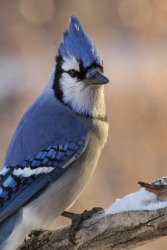 A jay perched on a branch.
---
jay definition by Webster's New World
noun
any of several corvids, usually strikingly colored birds, as the (Garrulus glandarius) or the blue jay

Informal

a foolish or talkative person
Origin: Middle English ; from Old French gai ; from Late Latin gaius, a jay, probably echoic, but spelling, spelled influenced, influence by the Classical Latin proper name Gaius
Jay, John 1745-1829; Am. statesman & jurist: 1st chief justice of the U.S. (1789-95)
Webster's New World College Dictionary Copyright © 2010 by Wiley Publishing, Inc., Cleveland, Ohio. Used by arrangement with John Wiley & Sons, Inc.
---
jay definition by American Heritage Dictionary
noun
Any of various often crested birds of the genera Garrulus, Cyanocitta, Aphelocoma, and related genera within the family Corvidae, often having a loud, harsh call. Also called jaybird.
An overly talkative person; a chatterbox.
Origin: Middle English jai, from Old French, from Late Latin gāius, gāia, perhaps from Latin Gāius, personal name.
, John 1745-1829.
American diplomat and jurist who served in both Continental Congresses and helped negotiate peace with Great Britain (1782-1783). He was the first chief justice of the U.S. Supreme Court (1789-1795) and negotiated a second agreement with Great Britain, Jay's Treaty (1794-1795).