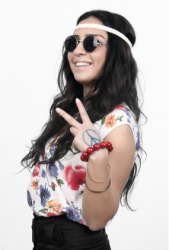 A hippie girl.
noun
The definition of a hippie was a young person during the 1960's or early 1970's who went against generally accepted values of society with many turning to actions like communal living, mysticism and psychedelic drugs.

An example of a hippie was Janis Joplin.
---
hippie
any of the young people of the 1960s and 1970s who, in their alienation from conventional society, turned variously to mysticism, psychedelic drugs, communal living, etc.

Slang

any person having a similar lifestyle
Origin of hippie
from hip + -ie
---
hippie
also hip·py
noun
pl.
hip·pies
A member of a counterculture originating in the United States in the 1960s, typically characterized by unconventional dress and behavior, communal or transient lifestyles, opposition to war, and liberal attitudes toward sexuality and the use of marijuana and psychedelic drugs.
Origin of hippie
From
hip
2
Related Forms:
---
hippie

Noun
(plural hippies)
(in the 1950s) A teenager who imitated the beatniks.
(in the 1960s; still widely used in reference to that era) One who chooses not to conform to prevailing social norms: especially one who ascribes to values or actions such as acceptance or self-practice of recreational drug use, liberal or radical sexual mores, advocacy of communal living, strong pacifism or anti-war sentiment, etc.
Someone with unusually long hair.
Someone who dresses in a hippie style.
One who is hip.
Adjective
(comparative hippier, superlative hippiest)
Of or pertaining to hippies: e.g., "the hippie era".
(colloquial) Not conforming to generally accepted standards: e.g., "Despite being for the widely-used Windows operating system, rather than using the commonly-used RAR or ZIP file-compression formats, they used a bunch of hippie compression formats instead".
Origin
From 1953, a usually disparaging variant of hipster. See also Hippie (etymology) on Wikipedia..
---