radical

rad·i·cal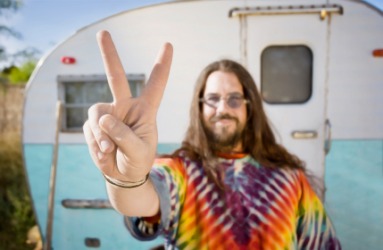 In the 1960s hippies, were considered radicals.
adjective
The definition of radical is something that is at the root of something, or something that changes, addresses or affects the major essence of something.

An example of radical is a basic solution to a complex problem.
An example of radical is the change that allowed women to vote.
noun
Radical is someone who goes against social norms and who often advocates social change.

An example of a radical was a hippie in the 1960's.
---
radical
of or from the root or roots; going to the foundation or source of something; fundamental; basic: a radical principle
extreme; thorough: a radical change in one's life

favoring fundamental or extreme change; specif., favoring basic change in the social or economic structure
[R-] designating or of any of various modern political parties, esp. in Europe, ranging from moderate to conservative in program

Bot.

of or coming from the root

Math.

having to do with the root or roots of a number or quantity
Origin of radical
Middle English from Late Latin
radicalis
from Classical Latin
radix
(gen.
radicis
), root
a basic or root part of something
a fundamental

a person holding radical views, esp. one favoring fundamental social or economic change
[R-] a member or adherent of a Radical party

Chem.

a group of two or more atoms that acts as a single atom and goes through a reaction unchanged, or is replaced by a single atom: it is normally incapable of separate existence

Math.

the indicated root of a quantity or quantities, shown by an expression written under the radical sign
radical sign
---
radical
adjective
Arising from or going to a root or source; basic: proposed a radical solution to the problem.
Departing markedly from the usual or customary; extreme or drastic: a radical change in diet.
Relating to or advocating fundamental or revolutionary changes in current practices, conditions, or institutions: radical politics; a radical political theorist.
Medicine Relating to or being surgery that is extreme or drastic in an effort to eradicate all existing or potential disease: radical hysterectomy.
Linguistics Of or being a root: a radical form.
Botany

a. Of, relating to, or arising from a root: radical hairs.

b. Arising from the base of a stem or from a below-ground stem or rhizome: radical leaves.

Slang Excellent; wonderful.
noun
One who advocates fundamental or revolutionary changes in current practices, conditions, or institutions: radicals seeking to overthrow the social order.
Mathematics The root of a quantity as indicated by the radical sign.
R An atom or a group of atoms with one unpaired electron.
Linguistics See root 1.

a. Any of the basic Chinese characters that are combined to form more complex characters.

b. Any of the traditional set of basic strokes or groups of strokes that make up Chinese characters and are used to classify and organize them in dictionaries.
Origin of radical
Middle English
of a root
from
Late Latin
rādīcālis
having roots
from
Latin
rādīx
rādīc-
root
; see
wrād-
in Indo-European roots.
Related Forms:
---
radical

Adjective
(comparative more radical, superlative most radical)
Favoring fundamental change, or change at the root cause of a matter.

His beliefs are radical.

(botany, not comparable) Pertaining to a root (of a plant).
Thoroughgoing.

The spread of the cancer required radical surgery, and the entire organ was removed.

(linguistics, not comparable) Of or pertaining to the root of a word.
(linguistics, not comparable, of a sound) Produced using the root of the tongue.
(chemistry, not comparable) Involving free radicals.
(mathematics) Relating to a radix or mathematical root.

a radical quantity; a radical sign

(slang, 1990s) Excellent; awesome.

That was a radical jump!
Noun
(plural radicals)
(historical: 19th-century England) A member of the most progressive wing of the Liberal Party; someone favouring social reform (but generally stopping short of socialism).
(historical: early 20th-century France) A member of an influential, centrist political party favouring moderate social reform, a republican constitution, and secular politics.
A person with radical opinions.
(arithmetic) A root (of a number or quantity).
(linguistics) In logographic writing systems as the Chinese writing system, the portion of a character (if any) that provides an indication of its meaning, as opposed to phonetic.
(linguistics) In Semitic languages, any one of the set of consonants (typically three) that make up a root.
(chemistry) A group of atoms, joined by covalent bonds, that take part in reactions as a single unit.
(organic chemistry) A free radical.
---