underlying

un·der·ly·ing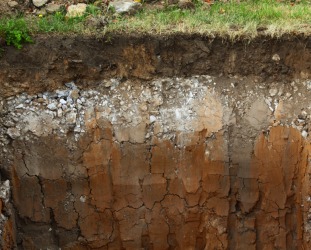 Layers of soil underlying the grass.
adjective
The definition of underlying refers to something lying beneath, or the basic or root cause of something.

A layer of minerals in the soil is an example of underlying minerals.
A lack of educational opportunity is an example of an underlying cause of poverty.
---
underlying
lying under; placed beneath
fundamental; basic: the underlying cause
really there but not easily seen or noticed: an underlying trend

Finance

having priority, as a claim
---
underlying
adjective
Lying under or beneath something: underlying strata.
Basic; fundamental: the underlying cause of the problem.
Present but not readily noticeable: an underlying meaning.
Taking precedence; prior: an underlying claim to compensation.
---
underlying

Adjective
(not comparable)
lying underneath

We dug down to the underlying rock.

basic or fundamental

Points and straight lines are underlying elements of geometry.

implicit

Many nursery rhymes have an underlying meaning.
---