elementary

el·e·men·ta·ry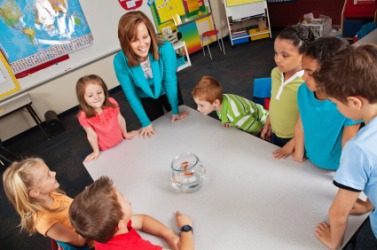 A group of elementary school students.
adjective
The definition of elementary is something simple and basic, or the entry-level into something.

When you have a very basic knowledge of computer programming, this is an example of when you have an elementary knowledge.
The very first years of your schooling that are an introduction into formal education are an example of elementary education.
---
elementary
elemental

of first principles, rudiments, or fundamentals; introductory; basic; simple
of or having to do with the formal instruction of children in basic subjects: elementary education
Origin of elementary
Middle English
elementare
from Classical Latin
elementarius
---
elementary
adjective
Of, relating to, or constituting the basic, essential, or fundamental part: an elementary need for love and nurturing.
Of, relating to, or involving the fundamental or simplest aspects of a subject: an elementary problem in statistics.
Of or relating to an elementary school or elementary education: the elementary grades; elementary teachers.
Related Forms:
---
elementary

Origin
From Middle French élémentaire.
---