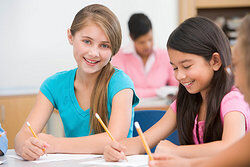 In elementary school, students are often not required to write in the same way as in middle school. Written assignments are few and far between, and they are generally not complicated. Often in middle school, students are introduced to their first lengthy paper, and they may feel overwhelmed as a result.
Before your student or your child enters middle school, writing practice should occur, at least on occasion. Even if the student is not required to write extensively in the class, he or she could do some written work at home.
Whether it be writing a poem for a Mother's Day card, a short story for entertainment, or journal entries on a daily basis, allotting time for some writing will prove beneficial. The middle schoolers will not feel as intimidated by writing assignments if they have already worked on developing the skills needed to complete such tasks.
Teachers can approach this situation by encouraging more written work in the elementary classroom. A short story about a favorite pet or a mini-book report is appropriate, especially when students are in the last couple of years of elementary school. Writing in elementary school paves the way for success later.
One of the best ways to learn how to write is to read the written word! As students transition from elementary to middle school, the types of reading material naturally become more intense. Students are introduced more to chapter books, than they were in elementary school. Of course, chapter book reading usually begins around the third or fourth grade. However, the process and amount of reading expands as the students progress through the grade.
Students who are already have high levels of achievement in the field of reading should be encouraged to read higher level books. If a fifth grader is advanced well beyond his or her years, he or she can be encouraged to select a book typically designated for sixth or seventh graders. Doing so allows the student to become acquainted with more vocabulary and writing styles. Those students who are struggling can receive help by going back to less advanced material. Starting there will lay the foundations, and then they can build up to the point where they are supposed to be.
Reading magazines, newspapers, or other literary publications of interest is always helpful, as it assists in keeping the student engaged. Of course, the content should be age appropriate and well written.
Most students are not going to be able to dive right in to their first major writing assignment without some assistance. All those involved, students, parents, and teachers, need to have patience.
Teachers should guide students through the writing process by suggesting that they start off with brainstorming and outlining. The class can even work together to brainstorm some ideas for the first essay. Allowing students to actually write in the classroom allows them to:
Receive help from the teacher firsthand
See that not everyone is flying through the process
After that, teachers should be sure to assign enough time to complete the assignment. Parents need to be sensitive to and supportive of the time required for the assignment. Rushing the child off the computer when he or she is typing, or demanding that the child finish chores first might not be the best ideas right now. Give the student time to complete the assignment, and be available to help if needed.
Ask for assistance! Many schools have some sort of tutoring program in place, or the school can recommend some sort of outside tutor. However, these programs cannot work if they are not utilized. Studying writing strategy tips for middle schoolers is helpful, but sometimes you actually need a person sitting with you to help!