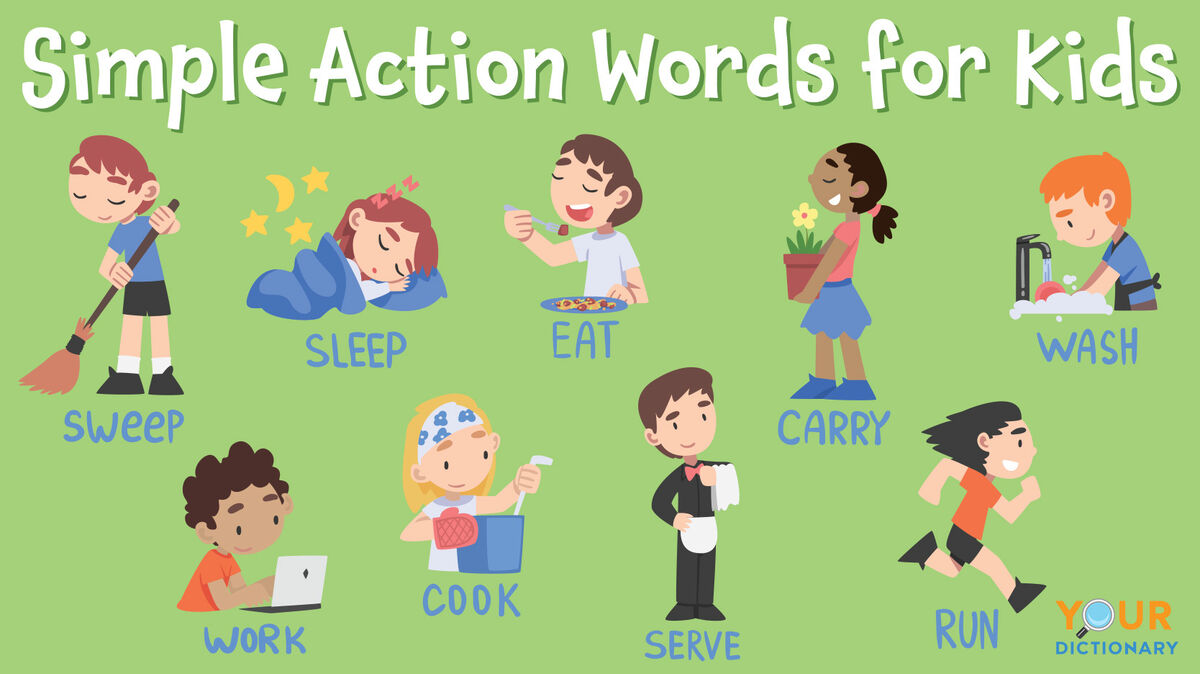 Teaching simple action words for preschool through elementary grades is useful because they lay the groundwork for other important lessons in the future. By the second grade, kids will be working with different parts of speech. Instilling the idea that "action words" are a class of words by themselves will make learning action verbs easier. Best of all, learning to read and write action words for kids can be exciting for little learners because they may already be familiar with many of the words.
Basic Action Words For Kids
Start with action words that describe behaviors that are already a part of young learners' lives. Use words for actions that they do themselves, as well as see others perform.
Action Words for Feelings
Some of the best action words for kindergarten and early elementary school are words about feelings and emotions, as well as how they react to such things.
Daily Activity Action Words
Kids are developing daily habits and behaviors that will form the foundation of their regular routines. Teaching action words about these habits of daily living is a good way to cover terms that young learners have already experienced in context.
Some of the words in the list are related to fields that can be worked into various learning activities and lesson plans. For example, 1st and 2nd grade students could create small science projects as they learn about the five senses and action words that go with them.
Printable Action Verb List for Kids
The lists above include 20 action words for young learners, but there are certainly other words appropriate for preschool, kindergarten and early elementary students. Below, you'll find a more extensive printable list of verbs for kids. It's filled with alphabetical examples of simple action verbs for kids.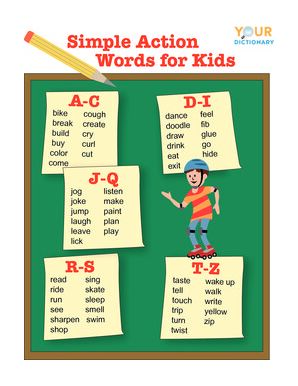 Many of the vocabulary words on the printable list above are actions that children of preschool age already read or hear about in their daily lives.
Simple Action Word Sentence Examples
It's a good idea to include simple sentences and/or questions in action word lessons and verb activities. This helps students clearly understand how the words will be used, which will help enhance the development of their language skills.
I cry when I feel sad.
I draw pictures of flowers.
We eat dinner at 6 p.m.
I see that it is raining.
I need to tell you something.
Can I touch the toy?
Do you want a cookie?
They will wash their hands.
After going over sample sentences in class, get students focused on recognizing and using action words in conversation. For example, during storytime, ask them to raise their hand when an action word comes up in the story. It's also a good idea to encourage young learners to come up with their own sentences that use action words.
Teaching Simple Action Words
Of course, there's more than one way to teach any subject, and different classes need to work at different paces. However, there are a few general guidelines that'll help you prepare your action word lesson plans for kindergarten, preschool and elementary grades.

Ask students to come to the front of the room. Have them actually perform the act of coloring, reading, talking, and so on. Then, ask the rest of the class what they are doing. This method is a way of introducing the concept of action words.
Have each student engage in an activity and then tell you what they are doing. Remind them they're using action words by telling you what they're doing.
Use flashcards if your plan is to stimulate reading and recognition. Start with pictorial flashcards and then move on to words. Allow students to match the action with the concept before asking them to try and memorize the abstract notion of language.
Have students draw pictures of different actions. Ask them to tell the rest of the class which actions they drew.
Students can also engage in miniature science projects to learn about the senses. For example, they could have a "sight" station (frog vs. tadpole) and a "touch" station (starfish vs. shell). If you're experimenting with the sense of taste, make sure none of the little ones are allergic!
As you move through the lesson, pair similar words together. For example, try discussing "walk," "jog," and "run" together, so students understand the similarities and differences among them.
Choose some of these free printable verb worksheets for all grade levels to enhance what students are learning in class. These make great in-class activities, and can also be used as homework exercises for early elementary learners.
Once your students are comfortable with the simple action words discussed above, you can start working even more action words into your lesson plans. Get inspiration from these action verb examples.
Instill the Joy of Grammar
Isn't it exciting? As a pre-K, kindergarten or early elementary school teacher, you have the power to instill the joy of grammar and language learning in every student you meet! When you're ready to explore sight words, refer to any of these fun sight word game ideas for preschool through early elementary grades. You can also have some fun building a giant list of three-letter words for pre-k students and beyond. Once your students are comfortable with action words for kids, start helping them decode the difference between action and non-action words.