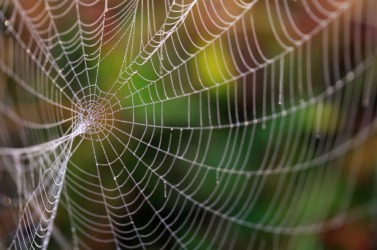 A spider's web is a complex structure.
adjective
The definition of complex is complicated or made up of many parts.

An example of complex is a math problem requiring many steps to solve.
An example of complex is the design of a spider web.
noun
A complex is defined as a group of related buildings or housing units.

An example of complex is a series of apartment buildings.
---
complex
consisting of two or more related parts
not simple; involved or complicated
Origin of complex
from Classical Latin
complexus,
past participle of
complecti,
to encircle, embrace from
com-,
with +
plectere,
to weave: see flax
a group of interrelated ideas, activities, etc. that form, or are viewed as forming, a single whole
an assemblage of units, as buildings or roadways, that together form a single, comprehensive group

Psychoanalysis

an integration of impulses, ideas, and emotions related to a particular object, activity, etc., largely unconscious, but strongly influencing the individual's attitudes and behavior

popularly

an exaggerated dislike or fear
---
complex
adjective
a. Consisting of interconnected or interwoven parts; composite: complex equipment with multiple components.

b. Composed of two or more units: a complex carbohydrate.

Difficult to understand for being intricate or involved; complicated: a complex problem.
Grammar

a. Consisting of at least one bound form. Used of a word.

b. Consisting of an independent clause and at least one other independent or dependent clause. Used of a sentence.
noun
A whole composed of interconnected or interwoven parts: a complex of cities and suburbs; the military-industrial complex.
A building or group of buildings used for a single purpose: a sports complex.
In psychoanalysis, a group of related, often repressed ideas and impulses that compel characteristic or habitual patterns of thought, feelings, and behavior.
An exaggerated or obsessive concern or fear: has a complex about his weight.
Medicine The combination of factors, symptoms, or signs of a disease or disorder that forms a syndrome.
Origin of complex
Latin
complexus
past participle of
complectī
to entwine
; see
complect
.
Related Forms:
---
complex

Adjective
(comparative more complex, superlative most complex)
Not simple, easy, or straightforward; complicated.
(mathematics) Of a number, of the form a + bi, where a and b are real numbers and i is a square root of −1.

complex function

(geometry) A curve, polygon or other figure that crosses or intersects itself.
Verb
(third-person singular simple present complexes, present participle complexing, simple past and past participle complexed)
(chemistry, intransitive) To form a complex with another substance
---