perplexed

per·plexed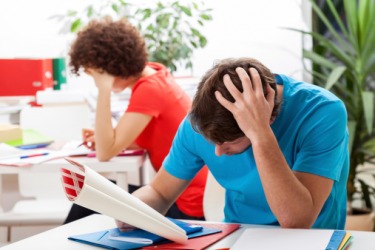 A perplexed student trying to figure out a class assignment.
adjective
The definition of perplexed is full of uncertainty, confused or puzzled.

An example of someone who would be described as perplexed is a person who is trying to solve a complicated math problem that she has no idea how to start.
---
perplexed
full of doubt or uncertainty; puzzled
hard to understand; confusing
---
perplexed
adjective
Filled with confusion or bewilderment; puzzled.
Full of complications or difficulty; involved.
Origin of perplexed
Middle English
from
perplex
confused
from
Old French
perplexe
from
Latin
perplexus
per-
per-
plexus
past participle of
plectere
to entwine
; see
plek-
in Indo-European roots.
Related Forms:
---
perplexed

Adjective
(comparative more perplexed, superlative most perplexed)
Verb
Simple past tense and past participle of perplex.
---