noun
The definition of a puzzle is game to exercise the brain by fitting different pieces together.

An example of a puzzle is the New York Times crossword.
verb
To puzzle is defined as to confuse.

An example of to puzzle is someone with green eyes saying their eyes are brown.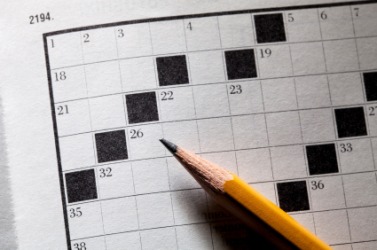 A crossword puzzle.
---
puzzle definition by Webster's New World
transitive verb
puzzled, puzzling
to perplex; confuse; bewilder; nonplus
Origin: Middle English an unverified form poselen (inferred ; from past participle poselet), to bewilder, confuse ; from uncertain or unknown; perhaps
intransitive verb
to be perplexed, etc.
to exercise one's mind, as over the solution of a problem
noun
the state of being puzzled; bewilderment
a question, problem, etc. that puzzles
a toy or problem for testing cleverness, skill, or ingenuity
Webster's New World College Dictionary Copyright © 2010 by Wiley Publishing, Inc., Cleveland, Ohio. Used by arrangement with John Wiley & Sons, Inc.
---
puzzle definition by American Heritage Dictionary
verb
puz·zled
,
puz·zling
,
puz·zles
verb
, transitive
To baffle or confuse mentally by presenting or being a difficult problem or matter.
To clarify or solve (something confusing) by reasoning or study: He puzzled out the significance of the statement.
verb
, intransitive
To be perplexed.
To ponder over a problem in an effort to solve or understand it.
noun
Something, such as a game, toy, or problem, that requires ingenuity and often persistence in solving or assembling.
Something that baffles or confuses.
The condition of being perplexed; bewilderment.
Origin: Origin unknown.
Related Forms:
The American Heritage® Dictionary of the English Language, 4th edition Copyright © 2010 by Houghton Mifflin Harcourt Publishing Company. Published by Houghton Mifflin Harcourt Publishing Company. All rights reserved.
---
puzzle - Phrases/Idioms
puzzle out
to solve by deep thought or study
puzzle over
to give deep thought to; concentrate on