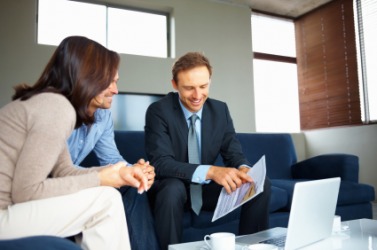 A man explains a document to his clients.
verb
Explain is defined as to make something clear or to account for something or tell why something happened.

An example of explain is for a teacher to show her students how to solve division problems.
An example of explain is for a student to tell his teacher why he did not complete his homework last night.
---
explain
to make clear, plain, or understandable
to give the meaning or interpretation of; expound
to account for; state reasons for
Origin of explain
Middle English
explanen
from Classical Latin
explanare
, to flatten from
ex-
, out +
planare
, to make level from
planus
, level (see plane): spelling, spelled influenced, influence by plain
explain away
to state reasons for so as to justify, often by minimizing, or make understandable
explain oneself
to make clear what one means
to give reasons justifying one's conduct
---
explain
verb
ex·plained, ex·plain·ing, ex·plains
verb
transitive
To make plain or comprehensible.
To define; expound: We explained our plan to the committee.

a. To offer reasons for or a cause of; justify: explain an error.

b. To offer reasons for the actions, beliefs, or remarks of (oneself).
verb
intransitive
To make something plain or comprehensible: Let me explain.
Phrasal Verbs:
explain away
To dismiss or minimize the significance of (something) by means of an explanation or excuse:
There is no way to explain away my carelessness.
Origin of explain
Middle English
explanen
from
Latin
explānāre
ex-
intensive pref.
; see
ex-
.
plānus
clear
; see
pelə-
2
in Indo-European roots.
Related Forms:
---
explain

Verb
(third-person singular simple present explains, present participle explaining, simple past and past participle explained)
To make plain, manifest, or intelligible; to clear of obscurity; to illustrate the meaning of.

To explain a chapter of the Bible.

To give a valid excuse for some past behavior.
Origin
Middle English explanen, from Old French explaner, from Latin explanāre ("to flatten, to spread out, make plain or clear, explain"), from ex- ("out") + planāre ("to flatten, make level"), from planus ("level, plain"); see plain and plane. Compare esplanade, splanade. Displaced native Middle English arecchen, irecchen ("to explain, expound") (from Old English āreccan, ġereccan).
---