illuminate
il·lu·mi·nate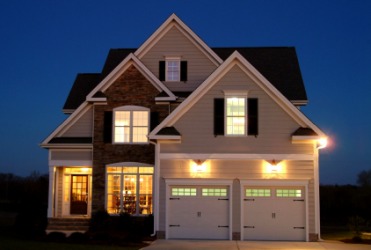 A house illuminated at night.
verb
The definition of illuminate is to light something up or to explain something so that it is clear.

When you turn on a light, this is an example of a situation where you illuminate a room.
When you decorate your house for Christmas, this is an example of a situation where you illuminate a house.
When you give a simple explanation to help someone understand an issue, this is an example of a situation where the explanation illuminates the issue.
---
illuminate
-·nat·ed

,

-·nat·ing
to give light to; light up
to brighten; animate

to make clear; explain; elucidate
to inform; instruct; enlighten

to make illustrious, glorious, or famous
to decorate with lights

to decorate (an initial letter or word) with designs, tracings, etc. of gold, silver, or bright colors
to decorate (a manuscript, page border, etc.) with such initial letters, miniature pictures, etc.
Origin of illuminate
; from Classical Latin
illuminatus
, past participle of
illuminare
, to light up ; from
in-
, in +
luminare
, to light ; from
lumen
(gen.
luminis
), a light ; from Indo-European an unverified form
leuksmen
; from base an unverified form
leuk-
: see illustrate
made bright with light
enlightened in mind or spirit
Archaic
a person who has or claims to have special knowledge
---
illuminate
transitive verb
il·lu·mi·nat·ed
,
il·lu·mi·nat·ing
,
il·lu·mi·nates
To provide or brighten with light.
To decorate or hang with lights.

a. To make understandable; clarify: "Cleverly made attacks can &ellipsis; serve to illuminate important differences between candidates" (New Republic).

b. To enlighten intellectually or spiritually; enable to understand: "I greatly misdoubt the accuracy of this &ellipsis; Can you illuminate me?" (Charles Darwin).

To adorn (a page of a book, for example) with ornamental designs, images, or lettering in brilliant colors or precious metals.
To expose to or reveal by radiation.
noun
One who has or professes to have an unusual degree of enlightenment.
Origin of illuminate
Middle English
illuminaten
, from Latin
ill&umacron;minare, ill&umacron;minat-
:
in-
,
in
; see
in–
2
+
l&umacron;minare
,
to light up
(from
l&umacron;men, l&umacron;min-
,
light
; see
leuk-
in Indo-European roots).
Related Forms:
il·lu′mi·nat′ing·ly

adverb
---
illuminate
---