labyrinth

lab·y·rinth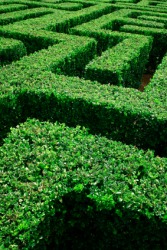 A labyrinth made by carefully trimmed hedges.
noun
The definition of a labyrinth is a confusing maze or a confusing situation where it is difficult to know which direction to take.

An example of a labyrinth is a corn field maze on Halloween.
An example of a labyinth is the IRS tax code.
---
labyrinth
a structure consisting of an intricate network of winding passages bordered as by walls or hedges; specif., such a structure designed for prayer and meditation: technically, a labyrinth (unlike a maze) contains no dead ends and consists of a single path leading to a center
a complicated, perplexing arrangement, course of affairs, etc.

Anat.

the inner ear
[L-]

Gr. Myth.

the labyrinthine structure built by Daedalus for King Minos of Crete, to house the Minotaur
Origin of labyrinth
Middle English
laborintus
(altered by folk etymology by associated, association with Classical Latin
labor
, labor +
intus
, into) from Classical Latin
labyrinthus
from Classical Greek
labyrinthos
, of pre-Hellenic origin, originally
---
labyrinth
noun
a. An intricate structure of interconnecting passages through which it is difficult to find one's way; a maze.

b. Labyrinth Greek Mythology The maze in which the Minotaur was confined.

A design consisting of a single unbranching but highly convoluted path leading from the outside to the center of a usually circular or square space.
Something highly intricate or convoluted in character, composition, or construction: a labyrinth of rules and regulations.
Anatomy

a. A group of complex interconnecting anatomical cavities.
Origin of labyrinth
Middle English
laberinthe
from
Latin
labyrinthus
from
Greek
laburinthos
possibly akin to
labrus
double-headed axe
(
used as a ritual weapon and a sign of authority in Minoan civilization, so that
Greek
laburinthos
may originally have designated a Minoan palace as "the house of the double-headed axe"
)
of Lydian origin
---
labyrinth

Verb
(third-person singular simple present labyrinths, present participle labyrinthing, simple past and past participle labyrinthed)
To enclose in a labyrinth, or as though in a labyrinth.
To arrange in the form of a labyrinth.
Origin
From Latin labyrinthus, from Ancient Greek λαβύρινθος (labúrinthos, "maze"), possibly from an Anatolian language (compare Lydian lábrus 'double-edged axe' and -inthos, a suffix typical of Anatolian placenames), although the actual etymology of labyrinth is still a matter of conjecture.
---