jungle

jun·gle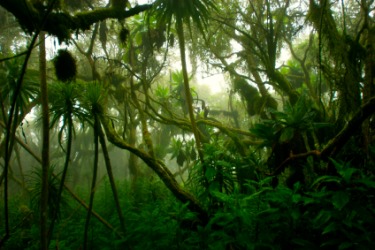 A dense tropical jungle.
noun
The definition of a jungle is an undeveloped land area with thick trees, plants and brush, or is the thick tangle of brush and vegetation itself, or a situation that is highly competitive or risky.

An example of a jungle is a thick forest with lots of plants, trees and animals.
An example of a jungle is a cutthroat corporate boardroom.
An example of a jungle is a dense, tangled mess of blackberry bushes.
---
jungle
land in a wet, tropical region, usually with large trees, dense underbrush, and a hot climate
any confused, tangled growth, collection, etc.
a form of electronic dance music originating in England in the early 1990s, that blends elements of hip hop, reggae, techno, and house music, emphasizing fast tempos, heavy, elongated bass beats, and highly syncopated, complicated breakbeats and rhythms

Slang

a hobos' camp

Slang

a place or situation in which people engage in ruthless competition or in a struggle for survival
Origin of jungle
Hindi
jangal,
desert forest, jungle from Sanskrit
ja?gala,
wasteland, desert
---
jungle
noun
Land covered with a dense growth of tropical vegetation.
A dense thicket or growth.
A dense, confused mass; a jumble.
Something made up of many confused elements; a bewildering complex or maze: sorting through the jungle of regulations.
A place or milieu characterized by intense, often ruthless competition or struggle for survival: the corporate jungle.
Slang A place where hoboes camp.
Origin of jungle
Ultimately from
Sanskrit
jangalam
desert, wasteland, uncultivated area
from
jangala-
desert, waste
Related Forms:
---
jungle

---