zoo

zoo-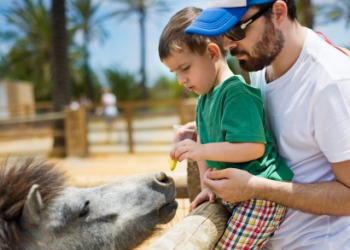 A father and son at the zoo.
noun
The zoo is a place where animals are kept so that people may come and see them.

The San Diego Zoo is a famous example of a zoo.

The definition of a zoo is defined as a place that is hectic and lacking order.

An elementary school playground is an example of a zoo.
---
zoo
a place where wild animals are kept for public showing
a collection of wild animals

Slang

a place, or the people in that place, variously regarded as lacking order, discipline, refinement, etc.
Origin of zoo
from zoo(logical garden)
zoo-
animal, animals: zoology
zoology and: zoogeography
Origin of zoo-
Classical Greek
z?o-
from
z?on
,
z?ion
, an animal: see bio-
---
zoo
noun
pl.
zoos
A park or an institution in which living animals are kept and usually exhibited to the public. Also called zoological garden .
Slang A place or situation marked by confusion or disorder: The bus station is a zoo on Fridays.
Origin of zoo
Short for
zoological garden
zoo-
or zo-
prefix
Animal; animal kingdom: zoography.
Motile: zoospore.
Origin of zoo-
Greek
zōo-, zōio-
from
zōion
living being
; see
gwei-
in Indo-European roots.
---
zoo

Origin
Shortened form of zoological garden, and now the usual form. See zoology.
---
zoo - Computer Definition
A freeware compression program, including source code, used in Unix, DOS and other environments.
---