adjective
The definition of garden is something that is used for tending plants, or something that is ordinary.

An example of something garden is a tool used specifically for taking care of a vegetable garden; a garden tool.
An example of something garden is a classic white coffee mug; a garden variety mug.
noun
A garden is defined as a space where plants or fruits and vegetables are grown, or a public space with decorative plants.

An example of a garden is a victory garden in the backyard, used for growing food.
An example of a garden are the gardens of Versailles.
verb
Garden means to take care of or tend plants.

An example of garden is to pull out weeds from a patch of strawberries.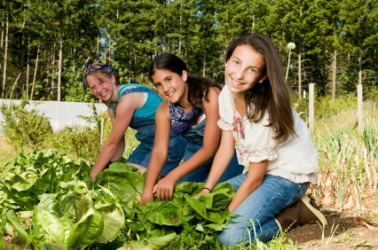 Three girls working in their garden.
---
garden definition by Webster's New World
noun
a piece of ground, usually close to a house, for growing vegetables, fruits, flowers, ornamental shrubs or trees, etc.
a well-cultivated region; area of fertile, developed land
a place outdoors for public enjoyment, planted with trees, flowers, etc., and sometimes having special displays of plants, a zoo, a duck pond, etc.
Origin: Middle English ; from Norman French gardin ; from Frankish an unverified form gardo, akin to German garten, Old English geard: see yard, garth
intransitive verb
to make, work in, or take care of a garden, lawn, etc.
transitive verb
to make a garden of
adjective
of, for, used in, or grown in a garden

ordinary; commonplace
hardy
Webster's New World College Dictionary Copyright © 2010 by Wiley Publishing, Inc., Cleveland, Ohio. Used by arrangement with John Wiley & Sons, Inc.
---
garden definition by American Heritage Dictionary
noun
A plot of land used for the cultivation of flowers, vegetables, herbs, or fruit.
gardens Grounds laid out with flowers, trees, and ornamental shrubs and used for recreation or display. Often used in the plural: public gardens; a botanical garden.
A yard or lawn.
A fertile, well-cultivated region.

a. An open-air establishment where refreshments are served.

b. A large public auditorium or arena.
verb
gar·dened
,
gar·den·ing
,
gar·dens
verb
, transitive
To cultivate (a plot of ground) as a garden.
To furnish with a garden.
verb
, intransitive
To plant or tend a garden.
To work as a gardener.
adjective
Of, suitable to, or used in a garden: garden tools; garden vegetables.
Provided with open areas and greenery: a garden community.
Garden-variety.
Origin: Middle English gardin, from Old North French, from gart, of Germanic origin; see gher-1 in Indo-European roots.
, Alexander 1730?-1791.
Scottish-born American naturalist and physician who contributed to the classification of New World plants. The gardenia is named after him.
The American Heritage® Dictionary of the English Language, 4th edition Copyright © 2010 by Houghton Mifflin Harcourt Publishing Company. Published by Houghton Mifflin Harcourt Publishing Company. All rights reserved.
---
garden - Phrases/Idioms
lead down the garden path
lead
/take
down the garden path
To mislead or deceive (another).