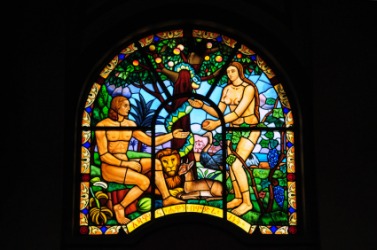 A depiction of the Garden of Eden in stained glass.
---
Eden
noun
Bible

the garden where Adam and Eve first lived; Paradise: Gen. 2:8
any delightful place or state; a paradise
Origin of Eden
Late Latin ; from Classical Hebrew (language) literally , delight
Eden, (Robert) Anthony Earl of Avon 1897-1977; Brit. statesman: prime minister (1955-57)
---
Eden
noun
Bible The garden of God and the first home of Adam and Eve. Also called Garden of Eden.
A delightful place; a paradise.
A state of innocence, bliss, or ultimate happiness.
Origin of Eden
Middle English, from Late Latin, from Greek
Ēdēn
, from Hebrew
'ēden
,
delight, Eden
; see
ġdn
in Semitic roots.
Related Forms:
---
Eden
Proper noun
(biblical) A garden built by God as the home for Adam and Eve; sometimes identified as part of Mesopotamia
Various place names
An English surname​, probably derived from a place name.
A female given name from the biblical place name; also a medieval diminutive of Old English compound names beginning with the element ēad ("riches").
---