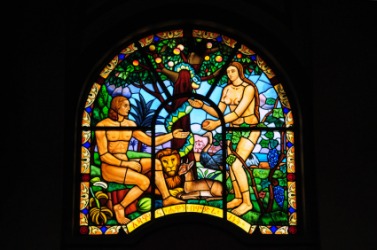 A depiction of the Garden of Eden in stained glass.
---
Eden definition by Webster's New World
noun
Bible

the garden where Adam and Eve first lived; Paradise: Gen. 2:8
any delightful place or state; a paradise
Origin: Late Latin ; from Classical Hebrew (language) literally , delight
Eden, (Robert) Anthony Earl of Avon 1897-1977; Brit. statesman: prime minister (1955-57)
Webster's New World College Dictionary Copyright © 2010 by Wiley Publishing, Inc., Cleveland, Ohio. Used by arrangement with John Wiley & Sons, Inc.
---
Eden definition by American Heritage Dictionary
noun
Bible The garden of God and the first home of Adam and Eve. Also called Garden of Eden.
A delightful place; a paradise.
A state of innocence, bliss, or ultimate happiness.
Origin: Middle English, from Late Latin, from Greek Ēdēn, from Hebrew 'ēden, delight, Eden; see ġdn in Semitic roots.
Related Forms:
, Sir (Robert) Anthony. First Earl of Avon. 1897-1977.
British politician who as foreign minister (1935-1938, 1940-1945, and 1951-1955) was instrumental in the founding of the United Nations (1945) and as prime minister (1955-1957) supported the 1956 Anglo-French invasion of Egypt.