heaven

heav·en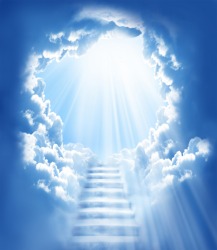 Is this the entrance to heaven?
noun
The definition of heaven is the sky and the universe as seen from Earth, or for Christians, the place where God, divine beings and saved souls live.

An example of heaven is where God, Jesus and the angels live.
An example of heaven is the stars.
---
heaven
[usually pl.] the space surrounding or seeming to overarch the earth, in which the sun, moon, and stars appear; sky; firmament: in pl., used with the
[oftenH-]

the abode of God, his angels, and the blessed
the powers of heaven; also, God: Heaven help you!

[oftenH-] a state or place of complete happiness or perfect rest, attained by the good after death

any place of great beauty and pleasure
a state of great happiness
Origin of heaven
Middle English
heven
from Old English
heofon
from Indo-European base an unverified form
?em-
, to cover (from source Late Latin
camisia
, shirt): akin to Old High German
himil
and to Old Saxon
hevan
, ON,
himinn
(dat.
hifne
), with
-fn
,
-v-n
from
-mn
by dissimilation
move heaven and earth
to do all that can be done; exert the utmost effort, influence, etc.
---
heaven
noun
often heavens The sky or universe as seen from the earth; the firmament.
Christianity

a. often Heaven The abode of God, the angels, and the souls of those who are granted salvation.

b. An eternal state of communion with God; everlasting bliss.

Any of the places in or beyond the sky conceived of as domains of divine beings in various religions.

a. Heaven God: Heaven help you!

b. heavens Used in various phrases to express surprise: Good heavens!

often heavens The celestial powers; the gods: The heavens favored the young prince.
A condition or place of great happiness, delight, or pleasure: The lake was heaven.
Origin of heaven
Middle English
heven
from
Old English
heofon
; see
ak-
in Indo-European roots.
---
heaven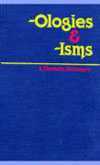 See also astronomy.
uranography
the astronomical study and mapping of the heavens, especially the fixed stars.
—uranographer
,
uranographist
,
n
.
—uranographic, uranographi-cal
,
adj.
uranology
uranography.
uranometry
1.
measurement of the positions of astronomical bodies.
2.
a chart showing such measurements and positions.
—uranometrical
,
adj.
uranophobia, ouranophobia
an abnormal fear of the heavens.
---
heaven

---