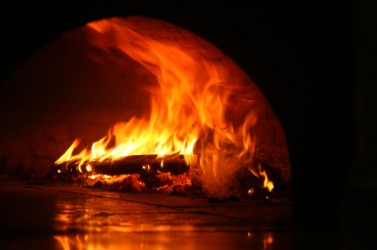 An inferno blazes within an oven.
noun
The definition of an inferno is hell, or a very hot place with flames.

An example of an inferno is a huge wood-burning oven.
---
inferno
noun
pl.
-·nos
hell or any place suggesting hell, usually characterized by great heat or flames
[I-] that section of Dante's Divine Comedy which describes hell and the sufferings of the damned
Origin of inferno
Italian from Classical Latin
infernus
: see infernal
---
inferno
noun
pl.
in·fer·nos
A place or condition suggestive of hell, especially with respect to human suffering or death: the inferno of battle.
A place of fiery heat or destruction.
Origin of inferno
Italian
hell
from
Late Latin
īnfernus
; see
infernal
.
---
inferno

---
inferno - Computer Definition
A distributed operating system from Vita Nuova Holdings Limited (www.vitanuova.com) that is a spin-off of the Plan 9 system developed at Bell Labs. Inferno uses fewer resources than Plan 9 and includes its own virtual machine (Dis) and concurrent programming language (Limbo). Inferno can also run on top of other operating systems, including Windows, Unix and Plan 9. See Plan 9 and distributed operating system.
---