fire

fire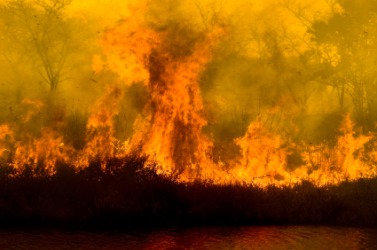 A bush fire.
noun
Fire is defined as flames, or a burning sensation in the body, or something that is burning, or strong enthusiasm.

When you strike a match, the flames that you see are an example of fire.
When you have a rash that is causing your skin to burn, this is an example of when your skin is on fire.
When you dig a pit, put a lot of wood in it, strike a match and then have flames coming up that you can roast marshmallows in, this is an example of fire.
When you feel a burning passion to get involved in fundraising, this is an example of when you direct your fire towards fundraising.
verb
The definition of fire is to discharge a gun, to let someone go from their job, to direct a lot of questions at someone very quickly, to send an aggressive message, or to fill someone with emotion.

When you pull the trigger and discharge a gun, this is an example of when you fire a gun.
When you tell someone that they are no longer working for you, this is an example of when you fire a person.
When the press rapidly asks questions of a politician after a scandal, this is an example of when the press fires questions.
When a politician makes an ad that inspires people to go out and vote, this is an example of when he fires up the voters.
When you say something to get a friend really mad, this is an example of when you fire him up.
---
fire
the active principle of burning, characterized by the heat and light of combustion
fuel burning in a furnace, fireplace, etc.
an instance of burning that is undesired, uncontrolled, and destructive: a forest fire
any preparation that will burn and make a brilliant display: Greek fire

anything like fire, as in heat or brilliance
firelike brilliance

death, torture, or trial by burning
extreme suffering or distress that tries one's endurance; tribulation or ordeal
a feverish or inflamed condition of the body
strong feeling; excitement; ardor: a speech full of fire
vivid imagination

discharge of firearms or artillery; shooting
anything like this in speed and continuity of action: a fire of criticism
Origin of fire
Middle English
fyr
from OE, akin to German
feuer
from Indo-European base an unverified form
pew?r-
from source Classical Greek
pyra
, pyre, Czech
pý?
, glowing embers
transitive verb
fired

,

fir′ing
to apply fire to; make burn; ignite
to supply with fuel; tend the fire of: to fire a furnace
to bake (bricks, pottery, etc.) in a kiln
to dry by heat
to make bright or illuminate, as if by fire

to animate or inspire
to excite, stimulate, or inflame: often with up

to shoot or discharge (a gun, bullet, etc.)
to make explode by igniting

to hurl or direct with force and suddenness: fire a rock, fire questions

Origin of fire

pun on discharge to dismiss from an office, position, or employment; discharge
Origin of fire
ME
firen
< OE
fyrian
to start burning; flame
to become excited or aroused
to react in a specified way to firing in a kiln: a glaze that fires bright blue
to shoot a firearm
to discharge a projectile: the gun fired accidentally
to become yellow prematurely, as corn or grain
between two fires
between two attacks; shot at, criticized, etc. from both sides
fire away
Informal
to begin; start: used esp. to invite questions or criticism
fire up
to start a fire in a furnace, stove, etc.
to start or warm up (an engine, etc.)

Archaic

to become suddenly angry or impassioned
go through fire and water
to undergo great difficulties or dangers
on fire
burning
greatly excited; full of ardor
having an extraordinary run of success
open fire
to begin to shoot firearms, artillery, etc.
set the world on fire
to become famous through brilliant achievements
strike fire
to make a spark, as with tinder
take fire
to begin to burn
to become excited
under fire
under attack, as by gunfire
subjected to criticism or hostility; embattled
---
fire
noun
a. A rapid, persistent chemical change that releases heat and light and is accompanied by flame, especially the exothermic oxidation of a combustible substance: destruction by fire.

b. A specific instance of this change that destroys something: a house fire.

c. A burning fuel: a cooking fire.

Burning intensity of feeling; ardor or enthusiasm: a musical performance that had fire. See Synonyms at passion.
Luminosity or brilliance, as of a cut and polished gemstone.
Liveliness and vivacity of imagination; brilliance: the fire of an artistic genius.
A severe test; a trial or torment: went through fire to become a leader.
A fever or bodily inflammation: tormented by the fire in an infected toe.

a. The discharge of firearms or artillery: heard the fire of cannon.

b. The launching of a missile, rocket, or similar ballistic body.

c. Discharged bullets or other projectiles: subjected enemy positions to heavy mortar fire; struck by rifle fire.

Intense, repeated attack or criticism: answered the fire from her political critics.
verb
fired, fir·ing, fires
verb
transitive
a. To cause to burn; ignite or set fire to: fired the enemy's encampment.

b. To illuminate or cause to resemble fire, as in color: The morning sun fired the tops of the trees.

a. To start (a fuel-burning engine or a vehicle with such an engine). Often used with up.

b. To start or tend a fire in: fire a furnace.

a. To arouse the emotions of; make enthusiastic or ardent. Often used with up: demonstrators who were fired up by their sense of injustice.

b. To inspire or arouse (an emotion or the imagination).

To bake or dry by heating, as in a kiln: fire pottery.

a. To discharge (a firearm, for example).

b. To detonate (an explosive).

a. To propel (a projectile) from a weapon or launch (a missile): fired several rounds before the gun jammed.

b. Informal To throw or propel with force and speed: fire a ball at a batter; fire a puck at the goal.

c. To utter or direct with insistence: fired questions at the senator.

Games To score (a number) in a game or contest: The golfer fired a 35 on the front nine.
To end the employment or service of; dismiss. See Synonyms at dismiss.
verb
intransitive
To become ignited; flame up: wet kindling that just wouldn't fire.

a. To shoot a weapon: aimed and fired at the target.

b. To detonate an explosive.

c. To ignite fuel; start: The engine fired right away.

a. To send out a projectile; discharge: The cannons fired for hours.

b. To propel or hurl a projectile: The pitcher wound up and fired.

Physiology To generate an electrical impulse. Used of a neuron.
To become yellowed or brown before reaching maturity, as grain.
Phrasal Verbs:
fire away
Informal
To start to talk or ask questions.
fire off
To utter or ask rapidly.To write and send (a letter, for example) in haste.
fire up
To cause to be ignited or to produce fire:
fire up a cigar; fire up the grill.
To cause to become excited or emotional:
a speech that fired up the crowd.
To bring to activity; start:
Fire up the stereo!
Origin of fire
Middle English
fir
from
Old English
fér
; see
paəw&rlowring;
in Indo-European roots.
Related Forms:
Word History:
Indo-European, the protolanguage from which English and many other languages descend, had pairs of words for some very common things, such as water or fire. Typically, one word in the pair was active, animate, and personified; the other, impersonal and neuter in grammatical gender. In the case of the pair of words for "fire," English has descendants of both, one inherited directly from Germanic, the other borrowed from Latin.
Fire
goes back to the neuter member of the pair. In Old English "fire" was
fér,
from Germanic
*fūr.
The Indo-European form behind
*fūr
is
*pūr,
whence also the Greek neuter noun
pūr,
the source of the prefix
pyro-.
The other Indo-European word for fire appears in
ignite,
derived from the Latin word for fire,
ignis,
from Indo-European
*egnis.
The Russian word for fire,
ogon'
(stem form
ogn-
), and the Sanskrit
agni-,
"fire" (deified as Agni, the god of fire), also come from
*egnis,
the active, animate, and personified word for fire.
---
fire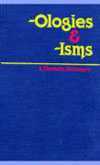 arsonist
a person who destroys property by fire, for revenge, insurance, etc.
empyrosis
Obsolete,
a large-scale fire or conflagration.
incendiarism
the deliberate destruction of property by fire; arson. —
incendiary
,
n., adj.
phlogiston
Obsolete Chemistry.
a hypothetical ingredient thought to be released during combustion. —
phlogistic
,
adj.
pyrogenous
Geology.
produced by the action of heat, hot solutions, etc. —
pyrogenic
,
adj.
pyrography
the process of burning designs on wood or leather with a heated tool. —
pyrograph
,
pyrographer
,
n.
—
pyrographic
,
adj.
pyrolater, pyrolator
a fire-worshiper.
pyrolatry
the worship of fire.
pyromancy
a form of divination involving fire or flames.
pyromania
a persistent compulsion to start fires.
pyrophilia
a love of fire.
pyrophobia
an abnormal fear of fire.
tephramancy, tephromancy
a form of divination involving the examination of the ashes remaining after a sacrifice.
ustulation
Rare.
the act or process of burning or searing. —
ustorious
,
ustulate
,
adj.
Vesuvian
an early type of match that was difficult to extinguish.
---
fire

Noun
(countable and uncountable, plural fires)
(uncountable) A (usually self-sustaining) chemical reaction involving the bonding of oxygen with carbon or other fuel, with the production of heat and the presence of flame or smouldering.
(countable) Something that has produced or is capable of producing this chemical reaction, such as a campfire.

We sat around the fire singing songs and telling stories.

(countable) The often accidental occurrence of fire in a certain place leading to its full or partial destruction.

There was a fire at the school last night and the whole place burned down.
During hot and dry summers many fires in forests are caused by regardlessly discarded cigarette butts.

(China, India and Japan) One of the five basic elements (See the Classical elements).
(countable) The elements necessary to start a fire.

The fire was laid and needed to be lit.

(uncountable) The bullets or other projectiles fired from a gun.

The fire from the enemy guns kept us from attacking.

Strength of passion, whether love or hate.
Liveliness of imagination or fancy; intellectual and moral enthusiasm.
Splendour; brilliancy; lustre; hence, a star.
Verb
(third-person singular simple present fires, present participle firing, simple past and past participle fired)
To set (something) on fire.
To heat without setting on fire, as ceramic, metal objects, etc.

If you fire the pottery at too high a temperature, it may crack.
They fire the wood to make it easier to put a point on the end.

To drive away by setting a fire.
To terminate the employment contract of (an employee), especially for cause (such as misconduct or poor performance).
To shoot (a device that launches a projectile or a pulse of stream of something).

We will fire our guns at the enemy.
He fired his radar gun at passing cars.

(intransitive) To shoot a gun, a cannon or a similar weapon.

Don't fire until you see the whites of their eyes.
His nail gun fired about twenty roofing nails a minute.

(intransitive, physiology) To cause an action potential in a cell.

When a neuron fires, it transmits information.

To forcibly direct (something).

He answered the questions the reporters fired at him.

(intransitive, computer sciences, software engineering) To initiate an event (by means of an event handler)

The event handler should only fire after all web page content has finished loading.

To inflame; to irritate, as the passions.

to fire the soul with anger, pride, or revenge

To animate; to give life or spirit to.

to fire the genius of a young man

To feed or serve the fire of.

to fire a boiler

To light up as if by fire; to illuminate.
(farriery) To cauterize.
(intransitive, dated) To catch fire; to be kindled.
(intransitive, dated) To be irritated or inflamed with passion.
Origin
From Middle English fier, from Old English fȳr ("fire"), from *fuïr, a regularised form of Proto-Germanic *fōr ("fire") (compare Saterland Frisian Fjuur, West Frisian fjoer, Dutch vuur, Low German Für, German Feuer, Danish fyr), ultimately from Proto-Indo-European *péh₂ur (compare Hittite (paḫḫur), Umbrian pir, Tocharian A/B por/puwar, Czech pýř ("hot ashes"), Ancient Greek πῦρ (pur, "fire"), Armenian հուր (hur, "fire")) and perhaps Albanian prush ("embers"). This was an inanimate noun whose animate counterpart was Proto-Indo-European *h₁ngʷnis, *h₁ngʷni-.
Noun
The sector of the economy including finance, insurance and real estate businesses.
---
fire - Computer Definition
---