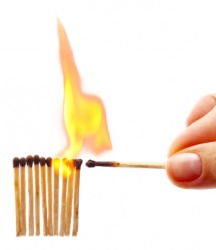 A person uses one match to ignite the others.
verb
The definition of ignite is to start on fire, or to instigate something.

When paper is exposed to flame and starts on fire, this is an example of a situation where the flame ignites the paper.
When you introduce someone to a great book and inspire a lifelong passion for literature, this is an example of a situation where you ignite a passion for literature.
---
ignite
transitive verb
-·nit′ed

,

-·nit′ing
to set fire to; cause to burn
to heat to a great degree; make glow with heat
to arouse the feelings of; excite
Origin of ignite
from Classical Latin
ignitus
, past participle of
ignire
, to set on fire from
ignis
: see igneous
to catch on fire; start burning
---
ignite
verb
ig·nit·ed, ig·nit·ing, ig·nites
verb
transitive
a. To cause to burn: The spark plug ignites the fuel.

b. To set fire to: faulty wiring ignited the attic.

a. To arouse the passions of; excite: The insults ignited my anger.

b. To bring about or provoke suddenly; stir up: The news report ignited a controversy.
verb
intransitive
To begin to burn: had trouble getting the wet tinder to ignite.
Origin of ignite
Late Latin
ignīre
ignīt-
from
Latin
ignis
fire
Related Forms:
ig·nit′a·ble ig·nit′i·ble

adjective
---
ignite

Verb
(third-person singular simple present ignites, present participle igniting, simple past and past participle ignited)
to set fire to (something), to light (something)
to spark off (something), to enthuse
(intransitive) to commence burning.
(chemistry) To subject to the action of intense heat; to heat strongly; often said of incombustible or infusible substances.

to ignite iron or platinum
Origin
From Latin ignitus, past participle of igniō, ignire ("to set on fire, ignite"). Derived from Latin ignis ("fire"), from Proto-Indo-European *h₁ngʷni- and, thus, related to Sanskrit अग्नि (agní), Lithuanian ugnis and Russian огонь (ogonʹ).
---