verb
The definition of ignite is to start on fire, or to instigate something.

When paper is exposed to flame and starts on fire, this is an example of a situation where the flame ignites the paper.
When you introduce someone to a great book and inspire a lifelong passion for literature, this is an example of a situation where you ignite a passion for literature.
YourDictionary definition and usage example. Copyright © 2013 by LoveToKnow Corp.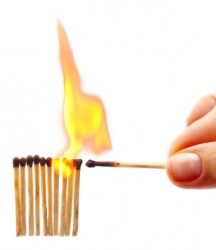 A person uses one match to ignite the others.
Licensed from iStockPhoto
---
transitive verb
ignited, igniting
to set fire to; cause to burn
to heat to a great degree; make glow with heat
to arouse the feelings of; excite
Origin: from Classical Latin ignitus, past participle of ignire, to set on fire from ignis: see igneous
intransitive verb
to catch on fire; start burning
Webster's New World College Dictionary
Copyright © 2010 by Wiley Publishing, Inc., Cleveland, Ohio.
Used by arrangement with John Wiley & Sons, Inc.
---
verb
ig·nit·ed
,
ig·nit·ing
,
ig·nites
verb
, transitive
a. To cause to burn.

b. To set fire to.

To subject to great heat, especially to make luminous by heat.
To arouse the passions of; excite: The insults ignited my anger.
verb
, intransitive
To begin to burn.
To begin to glow.
Origin: Late Latin ignīre, ignīt-, from Latin ignis, fire.
Related Forms:
ig·nitˈa·ble, ig·nitˈi·ble

adjective
ig·nitˈer, ig·niˈtor

noun
The American Heritage® Dictionary of the English Language
, 4th edition Copyright © 2010 by Houghton Mifflin Harcourt Publishing Company. Published by Houghton Mifflin Harcourt Publishing Company. All rights reserved.