passion

pas·sion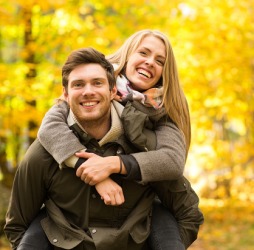 The passion that the young newlyweds have make every day special.
noun
Passion is a strong feeling of love or enthusiasm, especially in the context of a sexual relationship.

An example of passion is when you really love art.
An example of passion is what you feel for your new husband on your honeymoon.
---
passion
Archaic

suffering or agony, as of a martyr

Now Rare

an account of this

[P-]

the sufferings of Jesus, beginning with his agony in the garden of Gethsemane and continuing to his death on the Cross
any of the Gospel narratives of Jesus' Passion and of accompanying events
an artistic work, as an oratorio or a play, based on these narratives

any one of the emotions, as hate, grief, love, fear, joy, etc.
[pl.] all such emotions collectively

extreme, compelling emotion; intense emotional drive or excitement; specif.,

great anger; rage; fury
enthusiasm or fondness: a passion for music
strong love or affection
sexual drive or desire; lust

the object of any strong desire or fondness

Obs.

the condition of being acted upon, esp. by outside influences
Origin of passion
Old French from Ecclesiastical Late Latin
passio,
a suffering, especially that of Christ ( from Classical Latin
passus
, past participle of
pati,
to endure from Indo-European base an unverified form
p?-,
to harm from source Classical Greek
p?ma,
destruction, Classical Latin
paene,
scarcely): translated, translation of Classical Greek
pathos
: see pathos
---
passion
noun
a. Strong or powerful emotion: a crime of passion.

b. A powerful emotion, such as anger or joy: a spirit governed by intense passions.

a. A state of strong sexual desire or love: "His desire flared into a passion he could no longer check" ( Barbara Taylor Bradford )

b. The object of such desire or love: She became his passion.

a. Boundless enthusiasm: His skills as a player don't quite match his passion for the game.

b. The object of such enthusiasm: Soccer is her passion.

An abandoned display of emotion, especially of anger: He's been known to fly into a passion without warning.
Passion

a. The sufferings of Jesus in the period following the Last Supper and including the Crucifixion, as related in the New Testament.

b. A narrative, musical setting, or pictorial representation of Jesus's sufferings.

Martyrdom: the passion of Saint Margaret.
Origin of passion
Middle English
from
Old French
from
Medieval Latin
passiō
passiōn-
sufferings of Jesus or a martyr
from
Late Latin
physical suffering, martyrdom, sinful desire
from
Latin
an undergoing
from
passus
past participle of
patī
to suffer
; see
pē(i)-
in Indo-European roots.
---
passion - Legal Definition
---