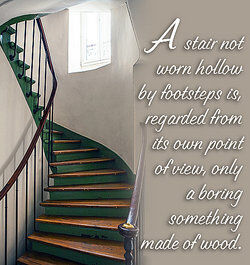 Franz Kafka's last words were "Kill me, or else you are a murderer!" They make no sense unless you know the circumstances under which they were uttered. Let's look at the life and work of Franz Kafka to see why he is considered one of the most influential writers of the 20st century.
In April of 1924, Franz Kafka entered a sanitorium in Kierling, Austria. As he was dying from tuberculosis, he begged his doctors to give him an overdose of morphine so he would no longer suffer. He said, "Kill me, or else you are a murderer!" He died on June 3, 1924.
Franz Kafka was born in Prague, Bohemia on July 3, 1883 to a German-speaking, Jewish family. They were middle class and his father owned a dry goods store. As a boy, Franz was shy and withdrawn, would write plays for his sisters to perform, and spent much of his time reading. He attended Charles Ferdinand University and received a doctorate in Law in 1906. During his school years, he met Max Brod and Felix Weltsch who became his closest friends.
After school, he settled for a job at Workers' Accident Insurance Institute. The hours were short, which gave him time to write, which was his real passion. However, between 1911 and 1917, he ran his brother-in-law's asbestos factory. This was done at the request of his father, and he was not happy there. Finally, the factory was shut down in 1917.
Kafka is best known for his short story "Metamorphosis" which he finished in 1912. In 1913 he wrote Meditation and in 1914, he completed Before the Law. By 1917, he had written The Judgement, In the Penal Colony, and A Country Doctor. Also by then, he had been diagnosed with tuberculosis.
1923 found him in Berlin, where he penned A Hunger Artist in 1924, which was a collection of four stories. His future novels included The Trial, The Castle, and Amerika.
Kafka didn't want his works published after his death; but, instead asked his lifelong friend, Max Brod, to burn his manuscripts, diaries and letters after his death. Max Brod did not carry out his friend's wishes and had all of them published anyway.
The Trial was Kafka's most successful novel, and one of the darkest, portraying persecution and paranoia, and exploring the court systems.
Kafkaesque: Examples and Meaning
If you want a glimpse of the genius of Franz Kafka, here are a few quotes about various things:
Start with what is right rather than what is acceptable.
Anyone who keeps the ability to see beauty never grows old.
By believing passionately in something that still does not exist, we create it. The nonexistent is whatever we have not sufficiently desired.
A stair not worn hollow by footsteps is, regarded from its own point of view, only a boring something made of wood.
My "fear" is my substance, and probably the best part of me.
Theoretically there is a perfect possibility of happiness: believing in the indestructible element in oneself and not striving towards it.
Every revolution evaporates and leaves behind only the slime of a new bureaucracy.
God gives the nuts, but he does not crack them.
As the stories were published after his death, Kafka's popularity grew; so much so, that there is an adjective which portrays his attitudes and insight. "Kafkaesque" is defined as "surreal, nightmarish, confusingly complex" (Webster's New World College Dictionary).
See more Franz Kafka quotes