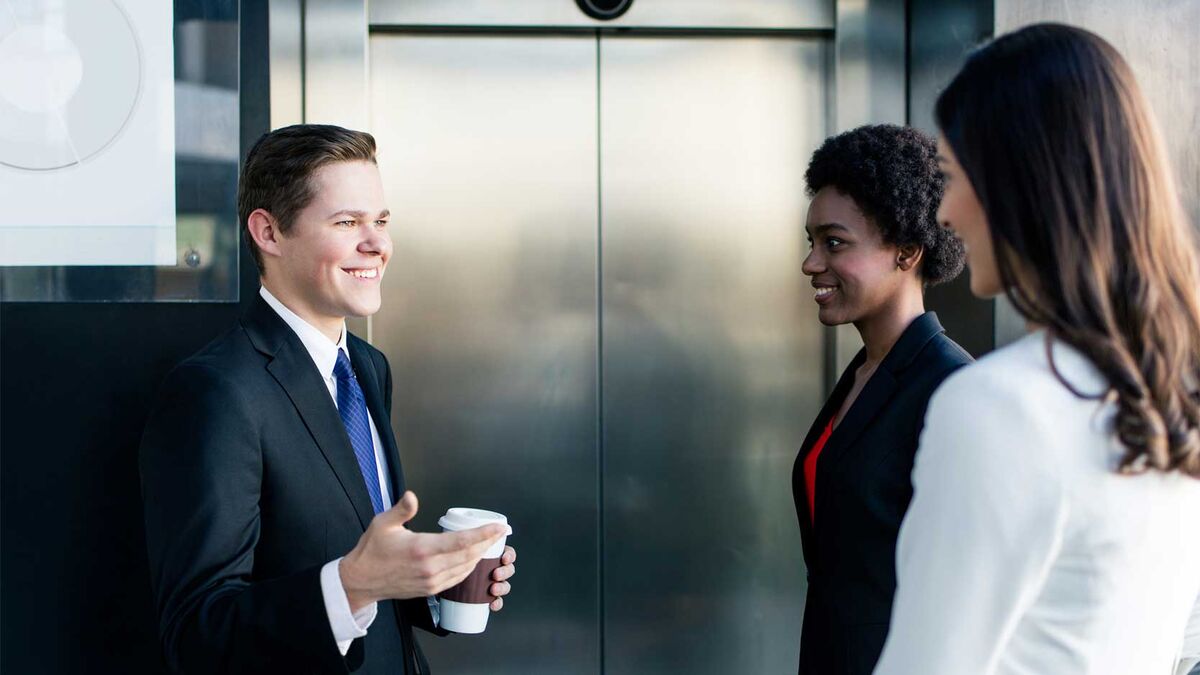 An elevator pitch is a brief 30 to 60 second speech that's meant to introduce who you are and your services or skills to a new contact. An elevator pitch answers the question, "What do you do?" in a structured and purpose-driven way. Whether you're a student, recent graduate or experienced professional, having an elevator pitch is a great way to make connections and build your network. Review these elevator pitch examples and get inspired to create your own!
Selling Yourself in Less Than a Minute
Elevator speeches epitomize the phrase "short and sweet," but that doesn't mean they're easy to write. Figuring out how to convey information that will intrigue someone to want to learn more about you in 75 words or less requires saying a lot with just a few words. Telling your story in an intriguing way in a minute or less requires strong communication skills.
Step-By-Step Elevator Pitch Structure
Your elevator speech needs to be customized to you, focusing on what is unique about what you have to offer. What you say should be truthful and memorable. When putting together an elevator speech, follow the basic steps detailed below.
Introduce yourself by name and, if relevant, your job position.
Provide a brief overview of what you do.
Emphasize your unique selling proposition (USP), which is a unique and memorable hook or something out of the ordinary about you or your services.
Wrap up with a brief goal statement specific to the conversation (such as asking for a meeting or interview).
Once you have finished, offer the person a business card. This can be a smooth way to bring the elevator pitch to a close while providing the other person an easy way to follow-up via email or phone call.
Key Information to Include in an Elevator Speech
Great elevator speeches provide brief answers to basic questions, in an interesting and upbeat way designed to hook the listener to want to learn more. The idea is to craft a statement that provides answers to the following questions using fewer than 75 words.
Who am I?
What do I do?
How do I do it?
Why do I do it?
What is your goal?
Be specific, concise and descriptive. Instead of just saying, "I'm a writer," take a more interesting approach. Consider something like: "I write articles about (topic) in such publications as (magazine) and (website), informing and engaging readers about (niche) so they can (benefit)."
When crafting your elevator pitch, stay focused on your objective and consider the interests of the person to whom you are speaking. While this is your time to shine, it's not your time to brag. The focus should be reciting a lot of facts about yourself, but rather on what you can do for the person standing before you.
Elevator Speech Examples for Students
The more effort you put into building a strong professional network while you're still in school, the better connected you'll be once you start looking for a job in your field. Craft an elevator pitch you can use to introduce yourself to professors, people you meet at alumni/student networking events, job fairs and via other networking opportunities.
Hi, my name is Tracey Berge. As an education student majoring in special education, my career goal is to help students of all ability levels reach their full potential. I'm looking to conduct informational interviews with experienced special education teachers to get insights from people actively working in the field. This will help me better understand each area of specialization and discover where I can best be of service.
Hello, my name is Joseph Tills. I'm a junior studying business management in preparation for pursuing a career in corporate management. My goal is to work as an operations manager for a manufacturing plant, as I am passionate about production and people. I'm hoping to gain insights from a professional with experience in this field. Would you be willing to share your knowledge and insights with me?
Hi! I'm Suzy Smith. I'm a public relations student seeking to learn everything I can about how to build a successful career as a publicist. That's why I'm so excited to become a member of the Public Relations Society. I want to get involved with the group and get to know each of you. Can I count on you to let me know how I can best be of assistance?
Hello, I'm Cindy Wilson. As a journalism student at XYZ University, I'm committed to providing people with the information they need to understand current events. I'm getting hands-on experience as a producer with the student television station and volunteering as a contributing writer for the campus newspaper. I'm ready to contribute to a news organization and am actively seeking an internship opportunity with your team.
Hello, my name is Evan Estes. I'm studying robotics engineering because I'm passionate about exploring ways technology can provide practical solutions to everyday problems. I'm particularly interested in robotics applications related to the field of durable medical equipment. I'm looking to connect with engineers and other professionals who are currently working in that field.
Elevator Speech Examples for Job Seekers
Whether you're a recent graduate fresh out of college or an experienced professional, it's important to be prepared to pitch yourself to potential employers and referral sources. An elevator speech can also be helpful in job interviews. When the interviewer asks you to share something about yourself, you'll sound polished and professional if you can quickly reply with a well-prepared elevator pitch.
My name is Katherine Pike. I recently graduated from NYU with a degree in journalism. I've been published all over, from ThoughtCo to Success.com. I write short pieces that motivate others to turn their adversities into strength. I'm looking to become a staff writer in a publication like yours. I'd like to think that, together, we can improve the lives of others all across the globe.
As a recent MBA graduate, I'm seeking an opportunity to apply my marketing and entrepreneurial skills with a startup that I can be proud to be a part of. I am passionate about building businesses from the ground up and am most comfortable in the high-energy, fast-paced environment of a startup. My name is Jessica Brown and I'm looking to join an organization like yours, where innovation and creativity are a part of everyday operations.
As an experienced financial services representative, I am very familiar with all customer-facing aspects of retail banking. I am passionate about helping customers with their financial needs, from basic transactions to financing major purchases and making long-term investment decisions. Banking is a relationship business, and I love building relationships with customers and employees. I'm excited to transition to the role of branch manager and greatly appreciate being considered for this job opportunity.
If you're looking for a multitasking, detail-oriented office administrator who can keep things running smoothly, I'm the perfect person for this job. My experience working as an event planner, administrative assistant and inventory specialist have prepared me for this role. My strong administrative skills and extensive professional experience mean that you can rely on me to tackle all of the responsibilities of this job effectively and efficiently.
Working as a human resources generalist provided me with a broad range of experience that helped me discover that my true passion is benefits strategy. While I love all aspects of HR, I am very excited about this opportunity to work with JRQ Industries as an employee benefits specialist. I am passionate about designing innovative and effective benefits packages that meet employee needs and ensuring that benefits programs are properly managed.
Examples for Professionals and Entrepreneurs
The need for a good elevator pitch won't end once you've completed school and gotten a job. If you're in sales, you always need to be prepared to pitch prospective customers. Even if you're not a salesperson, people you meet will often ask what you do. An elevator speech is the perfect response.
My name is Mike. I'm an independent contractor specializing in lawn care and maintenance. With over 20 years in the local market, I'm looking to add to my clientele. If your community needs a company that's always on time and curates beautiful lawns, I hope you'll give us a call!
My name is Marianne and I've been managing Majestic SEO & Design for five years. We create beautiful websites that don't just appeal to people casually browsing; we convert those browsers into customers. I know we could transform your company site into a lead-generating machine. Here's my card. If you're interested, I hope you'll check out our portfolio to see what we can do for you.
Hi, my name is Matthew. I run a small accounting firm right here in Austin. I serve a diverse population, consulting for Fortune 500 companies as well as small, privately-owned businesses. With rates that can't be beat and personalized attention, we ensure every client is 100 percent satisfied. Here's my card. If you ever need a consultation or year-end tax services, I hope you'll give me a call.
As a New York-based attorney, I have 10 years of experience in family law. In fact, I've never been defeated in the courtroom. I work hard for my clients and secure them the winning outcome they deserve. But, I'm ready for a change of scenery. Not only do I plan to relocate to Denver, I also plan to work for a no-nonsense law firm, just like yours, where winning is the primary focus.
My name is Donna Castle. I have owned and operated Castle Home Cleaning for 15 years. Your home is your castle; my goal is to make you feel like its king or queen. Leave the cleaning and day-to-day detailing to us and your castle will sparkle and shine without taking up all of your time. Your home is your Castle, but you don't have to be the one to clean it!
Creative Personalization Ideas
While the example elevator speeches above are good, they're not about you. The pitch that you prepare needs to be all about you, but it also needs to be memorable. Customize your pitch in a creative way that is relevant to what you do. Consider using a slogan, alliteration or another rhetorical device to help you stand out from the crowd and be remembered.
A ghostwriter might use a catchy slogan like, "Your story is mine to tell."
Someone who works in advertising might say, "I lie for a living. Not really. What I do is …"
A teacher might work in a relevant quote, such as "I believe the children are our future."
An event planner might use a saying like, "We plan, so you can enjoy the party."
A job seeker might make a bold proclamation, such as "I'm your next comptroller."
A makeup artist might say something like, "I'll make you look like you, only better!"
A caterer might say, "Remember, the best meal is the one you don't have to prepare!"
A restaurant owner might work in some alliteration by saying, "We're your dining destination."
A massage therapist might say, "Relax, I've got your back!"
A chiropractor might also use a rhyme, such as "Come see me; I'll get your spine in line."
A recent MBA graduate might say, "MBA for hire."
A copywriter might use a rhyming slogan like, "Prose that sells to your clientele."
Use these examples to get your creative juices flowing and come up with your own approach to describing your unique selling proposition. Think of this like writing a great hook that will help engage listeners and make them want to learn more about what you have to offer.
Be Prepared to Pitch Anywhere
Go out into the world, elevator pitch in hand. After all, you never know when opportunity will come knocking on your (elevator) door. Once you know what you want to say, memorize your elevator pitch so you can deliver it at any time, adjusting as needed for the particular situation. To further hone your elevator pitch, think of it like a one minute (or less) persuasive speech. With that in mind, you may find it helpful to review some persuasive writing examples.