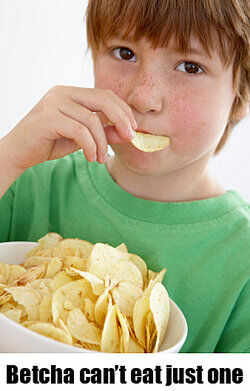 Branding your business or campaign is one of the most important elements of a new venture. What will your slogan be? How will you design your logo? What's your mission statement? Now's the time to unleash your creative powers and give the public a first impression they'll never forget.
Below, you'll find a series of catchy slogan examples. Hopefully one or two of them will get your wheels churning and prompt you to express yourself in a succinct and memorable way.
Famous Advertising Slogans
Professionals in the advertising business spend a lot of time trying to create the next best "one-liner." Nike perfected the art masterfully. "Just do it" has transcended cultures all across the globe. Let's take a look at some of the standouts from famous companies:
Tide's In - Dirt's Out (Tide)
There are some things money can't buy. For everything else, there's MasterCard. (MasterCard)
Good Food, Good Life (Nestle)
Because You're Worth It. (L'Oréal Paris)
Save Money. Live Better (Wal-Mart)
The Quicker Picker Upper (Bounty)
i'm lovin' it (McDonald's)
America Runs on Dunkin' (Dunkin' Donuts)
Imagination at Work. (General Electric)
Finger Lickin' Good (KFC)
Like a good neighbor, State Farm is there. (State Farm)
Have it your way (Burger King)
Maybe she's born with it. Maybe it's Maybelline. (Maybelline)
Melts in your mouth, not in your hands (M&M's)
The Few. The Proud. The Marines. (U.S. Marine Corps)
The Happiest Place on Earth (Walt Disney World Resort)
Think Different. (Apple)
Taste the Feeling (Coca-Cola)
Quality never goes out of style. (Levi's)
The best a man can get (Gillette)
Red Bull gives you wiiings. (Red Bull)
Betcha can't eat just one (Lay's)
Tastes So Good, Cat's Ask for It By Name. (Meow Mix)
Think outside the bun. (Taco Bell)
Snap, Crackle, Pop (Rice Krispies)
Other Catchy Company Slogans
Of course, you don't have to be a Fortune 500 company to come up with a catchy slogan. Some of our favorite local companies get it right with a catchy phrase or jingle. Here are some generic samples from other industries:
"We don't charge an arm and a leg. We want tows." (towing company)
"We repair what your husband fixed." (plumbing company)
"7 days without pizza makes one weak." (pizza shop)
"The best way to get back on your feet - miss a car payment." (car dealership)
"No appointment necessary. We hear you coming." (mechanic shop)
Slogans for Student Council
One of the best ways to get noticed as a candidate in an election is to create a masterful slogan. Love him or hate him, President Trump knows how to create catchy one-liners. He chanted "Lock her up!" when he was campaigning against Hillary Clinton. As for his own campaign, "Make America Great Again" will go down in the history books. If you're considering a run for student council, see if any of these slogans can help you formulate your own:
"Because life is too short to have bad student government."
"(Insert name of candidate): Because you're worth it."
"He's not popular and he's not handsome, so he has time for student government."
"(Insert name of candidate). Like Darth Vader, only prettier."
"Vote for (insert name of candidate). We've all done something stupid."
"Victoria's real secret. She votes for (insert name of candidate)."
"Don't be a fence sitting hen, vote for (insert name of candidate that rhymes with hen-Jen, Ben, Ren, etc.)."
"Pick up your pen and vote for (insert name of candidate that rhymes with hen)."
"Make someone happy. Vote for (insert name of candidate)."
"For success, choose the best."
"Making the world better since (insert candidate's year of birth)."
"Got (insert candidate's name)?"
"Get fresh ideas from a freshman."
"Everyone says (insert candidate's name) for Prez."
"Show me the money! (insert candidate's name) for treasurer!"
"Count on someone who can count. (insert candidate's name) for treasurer."
"Gotta Lotta Student Council. Get (insert candidate's name)."
Sometimes, catchy phrases simply come to mind. Other times, they take a bit of brainstorming. If you have a passion for advertising or are currently acting as a member of an ad team, here are some tips to help you formulate a slogan that'll catch people's attention.
Consider the Differentiators - Whether you're selling a product or your services, consider what makes you different. It's one thing to know your mission, but what's your advantage over everyone else in the industry? Once you've honed in on one area that you'd like to present as your first impression, then you can start to mold that into a catchy one-liner.
Consider Your Ethics - If you're selling a product or service in a highly saturated market, it might be hard to differentiate it from the others. What is unique is you (or your team). Maybe your expertise or work ethic is different than others. Perhaps you believe in honesty or transparency. For example, Audi pivoted off their German campaign "advancement through technology" and, in the American market, went with, "Truth in engineering."
Less Is More - In an ad campaign, less is definitely more. Notice all the "big name" brands above. Their slogans were no more than one line (with slight exceptions for MasterCard and Maybelline). Still, a good benchmark is to shoot for six to eight words. The longer it goes, the more likely it'll be forgotten.
Never Exaggerate - Don't say you're the number one company in America if you're not. Don't say you have the cheapest rates if you don't. That's a big turnoff and a waste of time spent on branding.
Aim for Reason and Rhyme - Try to find the sweet spot where your six or eight words either rhyme a little or have a sing-songy effect. "Like a good neighbor, State Farm is there," doesn't rhyme, but it sure is catchy when a little jingle is added to the mix.
Even with these tips, the best way to get started is to free write. Sit down with a pen and paper and jot down words that represent you or your company. The goal is to single out what makes you unique and then mold that ideal into a catchy slogan. If you have a couple of creatives in your circle of friends, offer to buy them coffee one night and brainstorm together.
Once your slogan's down pat, it's time to roll up your sleeves and write a masterful mission statement. This is where you can branch out beyond those six to eight words and let the world know what you stand for. When you're ready, How to Write a Mission Statement will help you get there.