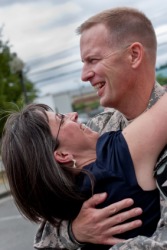 The ecstasy of a soldiers homecoming.
noun
Ecstasy is defined as the psychedelic drug MDMA.

An example of ecstasy is what club kids use to dance all night.

The definition of ecstasy is a feeling of intense joy, happiness or passion.

An example of ecstasy is a soldier being reunited with his family.
---
ecstasy
noun
pl.
-·sies
a state of being overpowered by emotion, as by joy, grief, or passion: an ecstasy of delight
a feeling of overpowering joy; great delight; rapture
a trance, esp. one resulting from religious fervor
[usuallyE-]

Slang

an illegal, mildly psychedelic derivative of amphetamine, CHNO, that slows down reactions and thought; MDMA
Origin of ecstasy
Middle English and Old French
extasie
from Ecclesiastical Late Latin
ecstasis
from Classical Greek
ekstasis
, a being put out of its place, distraction, trance from
ek-
, out +
histanai
, to set: see stand
---
ecstasy
noun
pl.
ec·sta·sies
Intense joy or delight.
A state of emotion so intense that one is carried beyond rational thought and self-control: an ecstasy of rage.
The trance, frenzy, or rapture associated with mystic or prophetic exaltation.
often Ecstasy Slang MDMA.
Origin of ecstasy
Middle English
extasie
from
Old French
from
Late Latin
extasis
terror
from
Greek
ekstasis
astonishment, distraction
from
existanai
to displace, derange
ek-
out of
; see
ecto-
.
histanai
to place
; see
stā-
in Indo-European roots.
---
ecstasy

Noun
(countable and uncountable, plural ecstasies)
Marlowe

Our words will but increase his ecstasy.

(slang) The drug MDMA, a synthetic entactogen of the phenethylamine family.
(medicine, dated) A state in which sensibility, voluntary motion, and (largely) mental power are suspended; the body is erect and inflexible; but the pulse and breathing are not affected.
Origin
From Old French estaise ("ecstasy, rapture"), from Late Latin extasis, from Ancient Greek ἔκστασις (ekstasis), from ἐξίστημι (eksistēmi, "I displace"), from ἐκ (ek, "out") and ἵστημι (histēmi, "I stand").
---