adjective
The definition of ecstatic is in a state of great delight or joy.

An example of ecstatic is the feeling a couple has when their first child is born.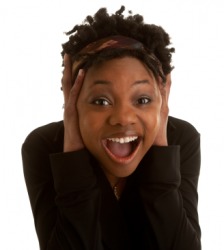 An ecstatic woman.
---
ecstatic definition by Webster's New World
adjective
of, having the nature of, or characterized by ecstasy
causing, or caused by, ecstasy
subject to ecstasy
Origin: Midieval Latin ecstaticus ; from Classical Greek ekstatikos
Webster's New World College Dictionary Copyright © 2010 by Wiley Publishing, Inc., Cleveland, Ohio. Used by arrangement with John Wiley & Sons, Inc.
---
ecstatic definition by American Heritage Dictionary
adjective
Marked by or expressing ecstasy.
Being in a state of ecstasy; joyful or enraptured.
Origin: French extatique, from Greek ekstatikos, from ekstasis, distraction; see Ecstasy .
Related Forms: