rapt

rapt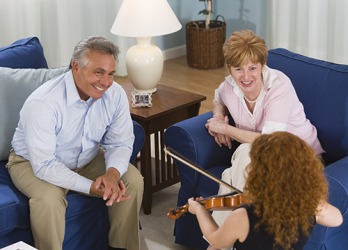 The grandparents listened with rapt attention to their granddaughter's violin performance.
adjective
The definition of rapt is being fascinated and paying careful attention to something, or being filled with an intense emotion, or being saved and going to heaven.

The attention you pay during a really great movie is an example of rapt attention.
When you are carried away to heaven, this is an example of a time when you are rapt.
---
rapt
Now Rare

carried away in body or spirit (to heaven, etc.)
carried away with joy, love, etc.; enraptured
completely absorbed or engrossed (in meditation, study, etc.)
resulting from or showing rapture: a rapt look
Origin of rapt
Classical Latin
raptus
, past participle of
rapere,
to snatch, seize: see rape
---
rapt
adjective
Deeply moved or delighted; enraptured: listened to the speaker with rapt admiration.
Deeply absorbed; engrossed: was rapt in thought all evening.
Origin of rapt
Middle English
carried away
from
Latin
raptus
past participle of
rapere
to seize
; see
rep-
in Indo-European roots.
Related Forms:
---
rapt

---