Paradise

par·a·dise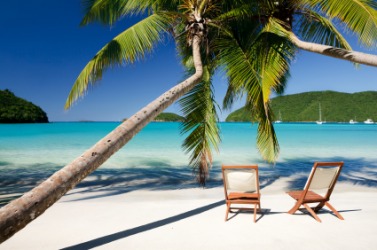 Paradise might be this island.
noun
Paradise is a perfect place or state.

Heaven or the garden of Eden are examples of Paradise in the Christian religion.
A tropical island where you feel as though everything is perfect and wonderful is an example of Paradise.
---
paradise
[P-] the garden of Eden
[P-] the abode of the righteous after death; abode of God and the blessed; heaven

any place of great beauty and perfection
any place or condition of great satisfaction, happiness, or delight
Origin of paradise
Middle English
paradis
from Old English and OFr, both from Ecclesiastical Late Latin
paradisus,
heaven, abode of the blessed from L, park, orchard from Classical Greek
paradeisos,
park, garden (in New Testament and LXX, Paradise) from Iranian an unverified form
pardez,
akin to Avestan
pairi-da?za,
enclosure from
pairi,
around (see peri-) +
da?za,
a wall from Indo-European base an unverified form
dheigh-,
to knead clay: see dough
Paradise
town in SE Nev., near Las Vegas
---
paradise
noun
often Paradise The Garden of Eden.

a. In various religious traditions, the Edenic or heavenly abode of righteous souls after death.

b. According to some forms of Christian belief, an intermediate resting place for righteous souls awaiting the Resurrection.

a. A place of great beauty or happiness: saw the park as a paradise within a noisy city.

b. A state of delight or happiness: The newlyweds have been in paradise for months.
Origin of paradise
Middle English
paradis
from
Old French
from
Late Latin
paradīsus
from
Greek
paradeisos
garden, enclosed park, paradise
from
Avestan
pairidaēza-
enclosure, park
pairi-
around
; see
per
1
in Indo-European roots.
daēza-
wall
; see
dheigh-
in Indo-European roots.
Related Forms:
par′a·di·si′a·cal par′a·di·si′ac par′a·di·sa′i·cal par′a·di·sa′ic par′a·dis′al

adjective
par′a·di·si′a·cal·ly par′a·di·sa′i·cal·ly par′a·dis′al·ly

adverb
Word History:
From an etymological perspective at least, paradise is located in ancient Iran—for it is there that the word
paradise
ultimately originates. The old Iranian language Avestan had a noun
pairidaēza-,
"a wall enclosing a garden or orchard," which is composed of
pairi-,
"around," and
daēza-
"wall." The adverb and preposition
pairi
is related to the equivalent Greek form
peri,
as in
perimeter. Daēza-
comes from the Indo-European root
*dheigh-,
"to mold, form, shape." Zoroastrian religion encouraged maintaining arbors, orchards, and gardens, and even the kings of austere Sparta were edified by seeing the Great King of Persia planting and maintaining his own trees in his own garden. Xenophon, a Greek mercenary soldier who spent some time in the Persian army and later wrote histories, recorded the
pairidaēza-
surrounding the orchard as
paradeisos,
using it not to refer to the wall itself but to the huge parks that Persian nobles loved to build and hunt in. This Greek word was used in the Septuagint translation of Genesis to refer to the Garden of Eden, and then Latin translations of the Bible used the Greek word in its Latinized form,
paradisus.
The Latin word was then borrowed into Old English and used to designate the Garden of Eden. In Middle English, the form of the word was influenced by its Old French equivalent,
paradis,
and it is from such Middle English forms as
paradis
that our Modern English word descends.
---
paradise

Noun
(plural paradises)
(chiefly religion) Heaven; the abode of sanctified souls after death.
(figuratively) A very positive experience.
(architecture) An open space within a monastery or adjoining a church, such as the space within a cloister, the open court before a basilica, etc.
A churchyard or cemetery.
Verb
(third-person singular simple present paradises, present participle paradising, simple past and past participle paradised)
To affect or exalt with visions of felicity; to entrance; to bewitch.
Origin
Middle English, from Old French, from Latin paradÄ«sus, from Ancient Greek παράδεισος (paradeisos), from Old Iranian *pari-daiza, compare Avestan 𐬞𐬀𐬌𐬭𐬌⸱𐬛𐬀𐬉𐬰𐬀 (pairi daÄ"za, "walled enclusure, encompassing"), from 𐬞𐬀𐬌𐬭𐬌 (pairi, "around") and 𐬛𐬀𐬉𐬰𐬀 (daÄ"za, "wall"). 𐬛𐬀𐬉𐬰𐬀 (daÄ"za, "wall") may be from Proto-Indo-European *dheigÊ· ("to stick, set up").
Proper noun
(religion) Heaven.
(religion) The Garden of Eden.
A town in California
A town in Grenada
A city in Kansas
A town in Newfoundland and Labrador
A rural locality in New Zealand
A community in Nova Scotia
A CDP in Pennsylvania
A village in Suriname
A city in Texas
A town in Utah
A settlement on the island of Saint Croix in the United States Virgin Islands
---
paradise - Computer Definition
An earlier family of graphics cards for PCs from the Paradise subsidiary of Western Digital Corporation, Irvine, CA.
---