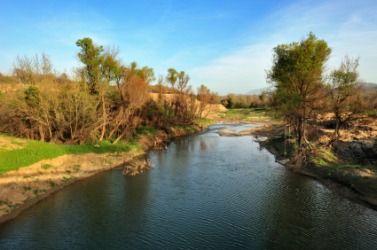 River in Arcadia, Greece.
Licensed from iStockPhoto
---
noun
any place of rural peace and simplicity
Origin: after Arcadia
ancient, relatively isolated pastoral region in the central Peloponnesus

department of modern Greece occupying the same general area
Webster's New World College Dictionary
Copyright © 2010 by Wiley Publishing, Inc., Cleveland, Ohio.
Used by arrangement with John Wiley & Sons, Inc.
---
also Ar·ca·dy A region of ancient Greece in the Peloponnesus. Its inhabitants, relatively isolated from the rest of the known civilized world, proverbially lived a simple, pastoral life.
A city of southern California, a residential suburb of Los Angeles at the foot of the San Gabriel Mountains. Population: 56,500.
also ar·ca·di·a
noun
A region offering rural simplicity and contentment.
The American Heritage® Dictionary of the English Language
, 4th edition Copyright © 2010 by Houghton Mifflin Harcourt Publishing Company. Published by Houghton Mifflin Harcourt Publishing Company. All rights reserved.