rapture

rap·ture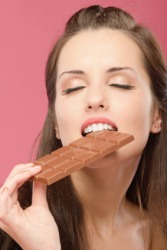 A chocoholics rapture.
noun
Rapture is a feeling of being carried away by extreme happiness, love or pleasure.

An example of rapture is how a chocoholic feels when eating chocolate cake.
An example of rapture is how a flower lover feels when submerged in a flower garden.
---
rapture
the state of being carried away with joy, love, etc.; ecstasy
an expression of great joy, pleasure, etc.
a carrying away or being carried away in body or spirit: now rare except in theological usage
Origin of rapture
Medieval Latin
raptura:
see rapt and -ure
transitive verb
-·tured

,

-·tur·ing
Now Rare
to enrapture; fill with ecstasy
the rapture
[oftenthe R-] in some Christian theologies, the bodily ascent into heaven just before Armageddon of those who are saved (see save, transitive verb)
---
rapture
noun
The state of being transported by a lofty emotion; ecstasy.
often raptures An expression of ecstatic feeling: raptures of joy.

a. The transporting of a person from one place to another, especially to heaven, by supernatural means.

b. Rapture An event in the eschatology of certain Christian groups in which believers in Christ will be taken up to heaven either prior to or at the Second Coming.
transitive verb
rap·tured, rap·tur·ing, rap·tures
To enrapture.
Origin of rapture
Obsolete French
abduction, carrying off
from
rapt
carried away
from
Old French
rat
from
Latin
raptus
; see
rapt
.
---
rapture

---