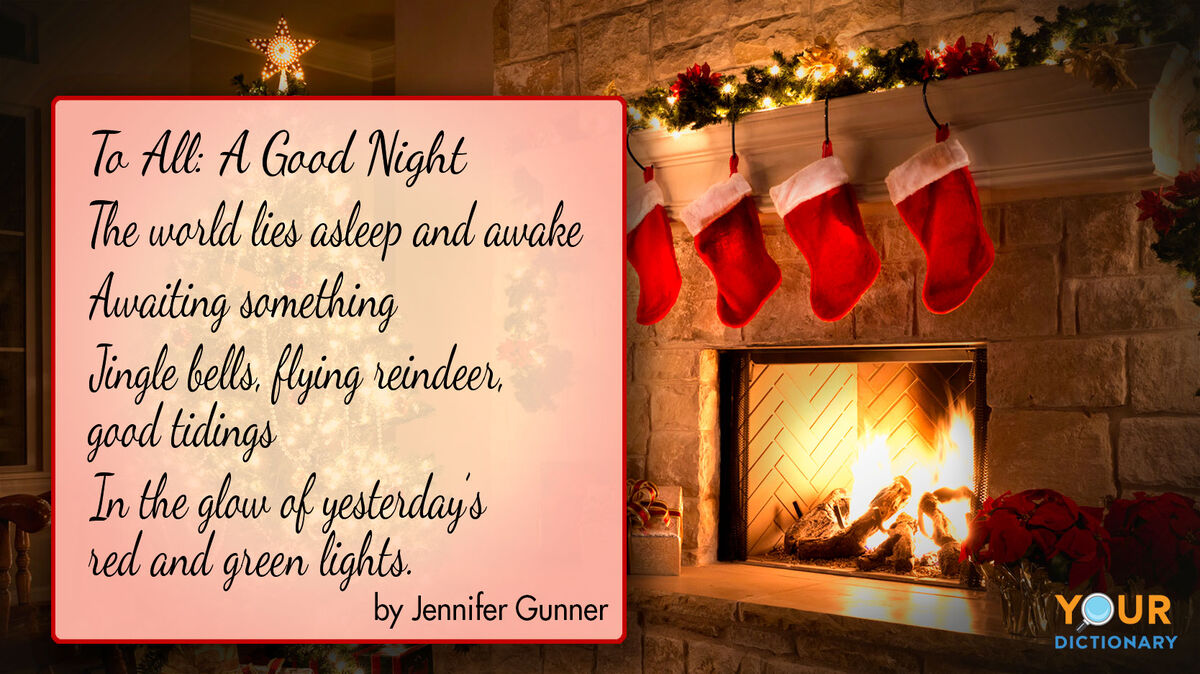 The Christmas season brings cold weather, warm fireplaces and lots of family time. It's the perfect opportunity to read classic Christmas poems to get into the holiday spirit! Keep reading for examples of timeless Christmas poems, as well as a few original poems, for the spirit of the season.
Christmas has been an inspiration to writers throughout history. Many famous poems have inspired popular Christmas hymns and carols; in fact, you may know many of these poems already! Take a look at these beautiful, timeless poems about Christmas that have set the holiday tone for many years.
A Visit From St. Nicholas
When you think of Christmas poems, Clement Clarke Moore's famous "A Visit From St. Nicholas," sometimes known as "'Twas the Night Before Christmas," comes to mind first. Its iconic meter and seasonal images have ushered generations of children into bed on Christmas Eve.

'Twas the night before Christmas, when all through the house

Not a creature was stirring, not even a mouse;

The stockings were hung by the chimney with care,

In hopes that St. Nicholas soon would be there;

The children were nestled all snug in their beds,

While visions of sugar-plums danced in their heads;

And mamma in her 'kerchief, and I in my cap,

Had just settled our brains for a long winter's nap...

- Clement Clarke Moore, "A Visit From St. Nicholas"
One of the Christmas poems that later became a popular carol is Henry Wadsworth Longfellow's "Christmas Bells." The 1865 poem reflects the contrast between the horrors of the American Civil War, Longfellow's grief for his late wife, and the beauty of Christmas morning. Several versions of the carol "I Heard the Bells on Christmas Day" use some or all of Longfellow's original lyrics, particularly its refrain "Peace on earth, good-will to men."

... And in despair I bowed my head;

"There is no peace on earth," I said;

"For hate is strong,

And mocks the song

Of peace on earth, good-will to men!"


Then pealed the bells more loud and deep:

"God is not dead, nor doth He sleep;

The Wrong shall fail,

The Right prevail,

With peace on earth, good-will to men."

- Henry Wadsworth Longfellow, "Christmas Bells"
"A Christmas Carol," a Christmas poem by Christina Rossetti, was set to music by Gustov Holst as the popular Christmas carol "In the Bleak Midwinter." It's a beautifully contemplative poem that describes the birth of Christ during a frosty, miserable winter night.

In the bleak mid-winter

Frosty wind made moan,

Earth stood hard as iron,

Water like a stone;

Snow had fallen, snow on snow,

Snow on snow,

In the bleak mid-winter

Long ago.


Our God, Heaven cannot hold Him

Nor earth sustain;

Heaven and earth shall flee away

When He comes to reign:

In the bleak midwinter

A stable-place sufficed

The Lord God Almighty

Jesus Christ.


- Christina Rossetti, "A Christmas Carol"
Revel in the childlike wonder of Christmas traditions and symbols with e.e. cummings' "little tree." It shows a brother and sister excitedly finding and decorating a small Christmas tree, reassuring the tree that they will comfort it and keep it safe.

little tree

little silent Christmas tree

you are so little

you are more like a flower

who found you in the green forest

and were you very sorry to come away?

see i will comfort you

because you smell so sweetly


i will kiss your cool bark

and hug you safe and tight

just as your mother would,

only don't be afraid ...


- e.e. cummings, "little tree"
Music on Christmas Morning
Christmas music has changed over the years, but has always been resonant to those who celebrate the holiday. Anne Brontë's "Music on Christmas Morning" reflects on why Christmas music touches her heart in the first few moments of Christmas morning.

MUSIC I love–but never strain

Could kindle raptures so divine,

So grief assuage, so conquer pain,

And rouse this pensive heart of mine–

As that we hear on Christmas morn,

Upon the wintry breezes borne.


Though Darkness still her empire keep,

And hours must pass, ere morning break;

From troubled dreams, or slumbers deep,

That music kindly bids us wake:

It calls us, with an angel's voice,

To wake, and worship, and rejoice …

- Anne Brontë, "Music on Christmas Morning"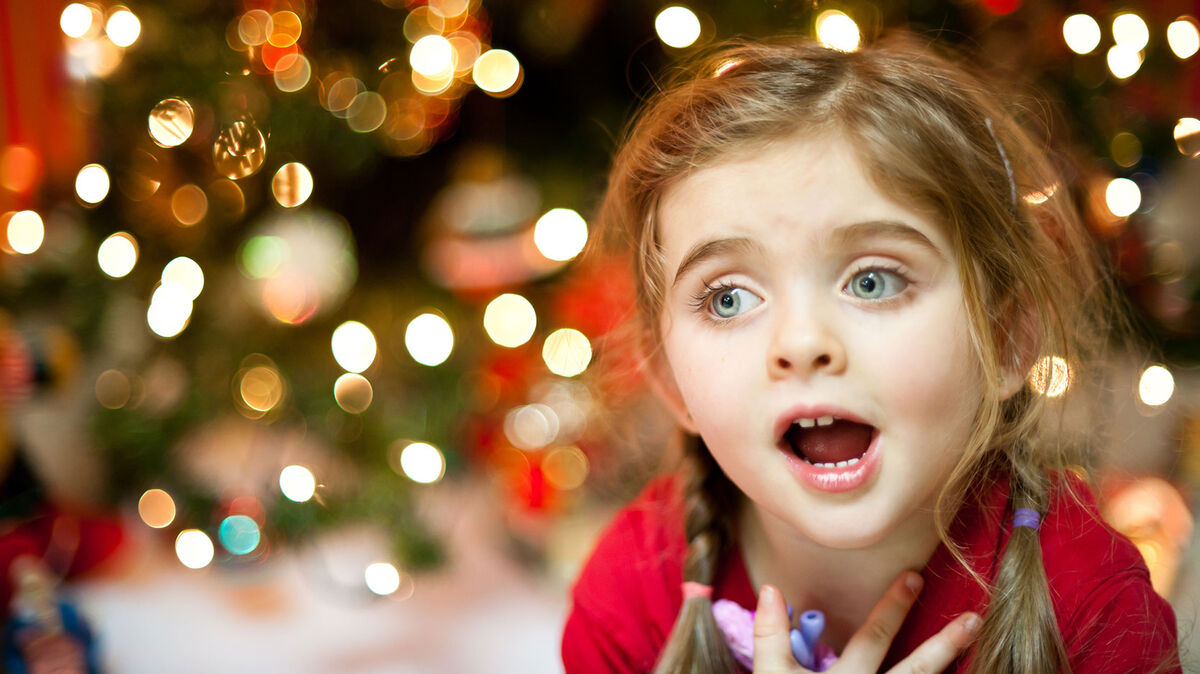 Not all Christmas poems are serious and reflective. Many timeless holiday poems use humor to illustrate the spirit of the season. These funny Christmas poems are great for kids to read as they count down the days until December 25th.
If you'd like a fun poem for children and adults alike, read "Help Wanted" by Timothy Tocher. It's a rhyming advertisement for new reindeer, since the old ones can't work anymore.

Santa needs new reindeer.

The first bunch has grown old.

Dasher has arthritis;

Comet hates the cold.

Prancer's sick of staring

at Dancer's big behind.

Cupid married Blitzen

and Donder lost his mind.

Dancer's mad at Vixen

for stepping on his toes.

- Timothy Tocher, "Help Wanted"
How the Grinch Stole Christmas
One of the most famous Christmas poems is the story of How the Grinch Stole Christmas by Dr. Seuss. The poem's message of a Grinch who realizes that Christmas is about generosity, not commercialism, is both fun and inspirational to read.

Every Who down in Whoville liked Christmas a lot...

But the Grinch, who lived just north of Whoville, did NOT!

The Grinch hated Christmas! The whole Christmas season!

Now, please don't ask why. No one quite knows the reason.

It could be his head wasn't screwed on just right.

It could be, perhaps, that his shoes were too tight.

But I think that the most likely reason of all,

May have been that his heart was two sizes too small …

- Dr. Seuss, How the Grinch Stole Christmas
A.A. Milne's poem "King John's Christmas" starts with King John, a mean man who never gets any gifts for Christmas. However, on Christmas morning he gets just what he wants – but not in the way he was expecting!

... "I did want crackers,

And I did want candy;

I know a box of chocolates

Would come in handy;

I do love oranges,

I did want nuts.

I haven't got a pocket-knife—

Not one that cuts.

And, oh! if Father Christmas had loved me at all,

He would have brought a big, red india-rubber ball!"

King John stood by the window,

And frowned to see below

The happy bands of boys and girls

All playing in the snow.

A while he stood there watching,

And envying them all …

When through the window big and red

There hurtled by his royal head,

And bounced and fell upon the bed,

An india-rubber ball!

- A.A. Milne, "King John's Christmas"
If you're looking for a seasonal snicker or a giggle of glad tidings, Shel Silverstein delivers every time. His poem "Christmas Dog" describes a faithful watchdog who protects the stockings and the tree from an intruder with a beard, a sack, and a group of "strange horses." Oops!

... I'm barkin', I'm growlin', I'm bitin' his butt.

He howls and jumps back in his sleigh.

I scare his strange horses, they leap in the air.

I've frightened the whole bunch away.

Now the house is all peaceful and quiet again,

The stockin's are safe as can be.

Won't the kiddies be glad when they wake up tomorrow

And see how I've guarded the tree.

- Shel Silverstein, "Christmas Dog"
Now that you've read these entertaining famous poems, it's time to bring the holiday spirit to your own writing. Creating Christmas poetry is a fun and creative way to express your feelings about the holidays. Use these original poems by Jennifer Gunner as inspiration when crafting Christmas poems that are sure to become timeless.
The night before Christmas morning can be a joyous moment for some, but a sting of grief for others. It's important to reflect on the year that is about to end and wonder if you have truly brought Christmas to other people's hearts.
The world lies asleep and awake

Awaiting something

Jingle bells, flying reindeer, good tidings

In the glow of yesterday's red and green lights.

Tossing and turning with anticipation

With worry

With excitement

With dread

At what might await the world in the morning.


The gift of hope, wrapped with patience and love

Present under some trees

Not yet under others.

We sing to reverent trumpets and strident harps

Grateful for the end of a year that has already

Gifted us enough

And not gifted us at all.

The world lies awake and asleep

Awaiting something

Good tidings, flying reindeer, jingle bells

In the glow of tomorrow's green and red lights.
We all know the feeling of trying to make Christmas the perfect holiday for everyone. But what happens when you haven't remembered everything?

I've bought and wrapped the presents,

Christmas dinner is all set.

The tree is trimmed, the wreath is hung–

So what did I forget?

We saw the children's pageants

And the baby didn't fret

We saved our seats for the parade–

So what did we forget?


A tap tap gets my attention

The fireplace flue is locked,

Poor Santa's stuck a-knocking–

So that's what I forgot!
'Tis the Season for Christmas Fun
These classic poems are a wonderful way to bring the holiday season to life. Once the reading is done, it's time for some Christmas fun! Take a look at these Christmas charades ideas and you'll be the star of your next holiday party. Or, for some funny one-liners, read these Christmas puns to be the ultimate Christmas jokester.