participle

par·ti·ci·ple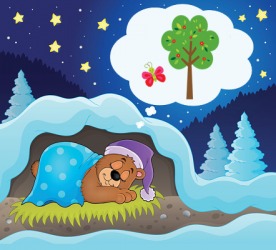 The sleeping bear was dreaming of Spring.
noun
In grammar terms, a participle is an adjective (descriptive word) made from a verb.

An example of a participle is "sleeping" in the phrase "sleeping dogs."
---
participle
Gram.
a verbal form having some characteristics and functions of both verb and adjective: in English, the present participle ends in
-ing
(
asking
) and the past participle most commonly ends in
-ed
or
-en
(
asked, spoken
): participles are used:
a
) in verb phrases (are
asking
, was
carried
)
b
) as verbs (
seeing
the results, he stopped)
c
) as adjectives (a
laughing
boy, the
beaten
path)
d
) as nouns, i.e., gerunds (
seeing
is
believing
)
e
) as adverbs (
raving
mad)
f
) as connectives (
saving
those present)
Origin of participle
Old French from Classical Latin
participium
from
particeps,
participating, partaking from
participare,
participate: from participating in the nature of both verb and adjective
---
participle
noun
A form of a verb that in some languages, such as English, can function independently as an adjective, as the past participle baked in We had some baked beans, and is used with an auxiliary verb to indicate tense, aspect, or voice, as the past participle baked in the passive sentence The beans were baked too long.
Origin of participle
Middle English
from
Old French
variant of
participe
from
Latin
participium
(
translation of
Greek
metokhē
sharing, partaking, participle
)
from
particeps
particip-
partaker
; see
participate
.
Usage Note: Participial phrases such as walking down the street or having finished her homework are commonly used in English to modify nouns or pronouns, but care must be taken in incorporating such phrases into sentences. Readers will ordinarily associate a participle with the noun, noun phrase, or pronoun adjacent to it, and misplacement may produce comic effects as in He watched his horse take a turn around the track carrying a racing sheet under his arm. A correctly placed participial phrase leaves no doubt about what is being modified: Sitting at her desk, Jane read the letter carefully. • Another pitfall in using participial phrases is illustrated in the following sentence: Turning the corner, the view was quite different. Grammarians would say that such a sentence contains a "dangling participle" because there is no noun or pronoun in the sentence that the participial phrase can logically modify. Moving the phrase will not solve the problem (as it would in the sentence about the horse with a racing sheet). To avoid distracting the reader, it would be better to recast the sentence as When we turned the corner, the view was quite different or Turning the corner, we had a different view. • A number of expressions originally derived from participles have become prepositions, and these may be used to introduce phrases that are not associated with the immediately adjacent noun phrase. Such expressions include concerning, considering, failing, granting, judging by, and speaking of. Thus one may write without fear of criticism Speaking of politics, the elections have been postponed or Considering the hour, it is surprising that he arrived at all. very
---
participle

Noun
(plural participles)
Usage notes
Participles can be combined with the auxiliary verbs have and be to form the perfect aspect, the progressive aspect, and the passive voice. The tense is always expressed through the auxiliary verb.
I have asked. (present tense, perfect aspect)
I am asking. (present tense, progressive aspect)
I am asked. (present tense, passive voice)
When not combined with have or be, participles are almost always adjectives and can form adjectival phrases called participial phrases. Nouns can occasionally be derived from these adjectives:
the following items
the following
the dying victims
the dying
In English, participles typically end in -ing, -ed or -en.
Origin
From Old French participle (1388), "˜a noun-adjective', variant of participe, from Latin participium.
---