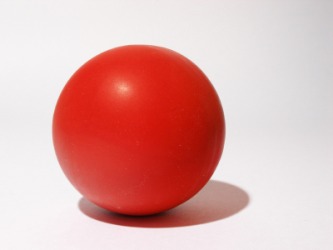 Red is an adjective to describe this ball.
noun
The definition of an adjective is a part of speech that is used to describe a noun.

Red, tall, better and fast are all examples of adjectives.
---
adjective
any of a class of words used to modify a noun or other substantive, as by describing qualities of the entity denoted, stating its limits or quantity, or distinguishing it from others (Ex.: good, every, Aegean)
Origin of adjective
Middle English and Old French
adjectif
from Classical Latin
adjectivus
, that is added from
adjectus
, past participle of
adjicere
, to add to from
ad-
, to +
jacere
, to throw: see jet
of an adjective
having the nature or function of an adjective
dependent or subordinate

Law

of or relating to practice and procedure; procedural
---
adjective
noun
Abbr.
a.
or
adj.
The part of speech that modifies a noun or other substantive by limiting, qualifying, or specifying and distinguished in English morphologically by one of several suffixes, such as -able, -ous, -er, and -est, or syntactically by position directly preceding a noun or nominal phrase.
Any of the words belonging to this part of speech, such as white in the phrase a white house.
adjective
Adjectival: an adjective clause.
Law Specifying the processes by which rights are enforced, as opposed to the establishing of such rights; remedial: adjective law.
Not standing alone; derivative or dependent.
Origin of adjective
Middle English
from
Old French
adjectif
from
Late Latin
adiectīvus
from
adiectus
past participle of
adicere
to add to
ad-
ad-
iacere
to throw
; see
yē-
in Indo-European roots.
Related Forms:
---
adjective

Adjective
(not comparable)
(grammar) Adjectival; pertaining to or functioning as an adjective.
(law) Applying to methods of enforcement and rules of procedure.
Verb
(third-person singular simple present adjectives, present participle adjectiving, simple past and past participle adjectived)
To make an adjective of; to form or convert into an adjective.
---