harlequin
[här′li kwin, -kin]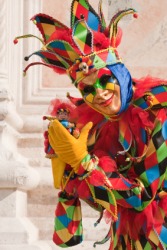 A colorful Harlequin.
---
harlequin definition by Webster's New World
noun
a traditional comic character in pantomime, who wears a mask and spangled, diamond-patterned tights of many colors and sometimes carries a wooden wand or sword
a clown; buffoon
Origin: French harlequin, arlequin ; from Old French hierlekin, hellequin, demon: French sense and amp; form influenced, influence by Italian arlecchino ; from same Old French source
adjective
comic; ludicrous
of many colors; colorful
Webster's New World College Dictionary Copyright © 2010 by Wiley Publishing, Inc., Cleveland, Ohio. Used by arrangement with John Wiley & Sons, Inc.
---
harlequin definition by American Heritage Dictionary
noun
Harlequin A conventional buffoon of the commedia dell'arte, traditionally presented in a mask and parti-colored tights.
A clown; a buffoon.
adjective
Having a pattern of brightly colored diamond shapes.
Origin: Obsolete French, from Old French Herlequin, Hellequin, a demon, perhaps from Middle English *Herleking, from Old English Herla cyning, King Herla, a mythical figure identified with Woden.
harlequin
Variant of Harlequin
noun
a traditional comic character in pantomime, who wears a mask and spangled, diamond-patterned tights of many colors and sometimes carries a wooden wand or sword
a clown; buffoon
Origin: French harlequin, arlequin ; from Old French hierlekin, hellequin, demon: French sense and amp; form influenced, influence by Italian arlecchino ; from same Old French source
adjective
comic; ludicrous
of many colors; colorful