buffoon

buf·foon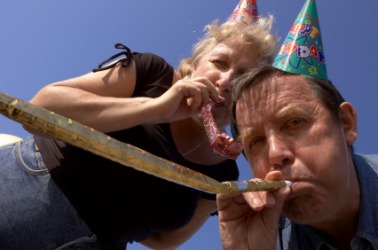 Two people acting like buffoons.
noun
The definition of a buffoon is a clown or someone who is always trying to be funny.

The class clown who is always making everyone laugh is an example of a buffoon.
---
buffoon
a person who is always clowning and trying to be funny; clown
Origin of buffoon
French
bouffon
from Italian
buffone,
jester from
buffare,
to jest, puff: of echoic origin, originally
---
buffoon
noun
A clown; a jester: a court buffoon.
A person given to clowning and joking.
A ludicrous or bumbling person; a fool.
Origin of buffoon
French
bouffon
from
Old Italian
buffone
from
buffa
jest
from
buffare
to puff
of imitative origin
Related Forms:
---
buffoon

Noun
(plural buffoons)
One who acts in a silly or ridiculous fashion; a clown or fool.
(pejorative) An unintentionally ridiculous person.
Usage notes
In the United States the term is used most commonly to describe inappropriate, clownish figures on the public stage; here the behavior of a variety of public figures have caused them to be described as buffoons by their political opponents.
In the UK the term is used more broadly, to describe such people who are held in popular regard but who nevertheless engender amusement with their pronouncements and acts.
Verb
(third-person singular simple present buffoons, present participle buffooning, simple past and past participle buffooned)
To behave like a buffoon
Origin
From Middle French bouffon, from Italian buffone ("jester"), from buffare ("to puff out the cheeks")
---