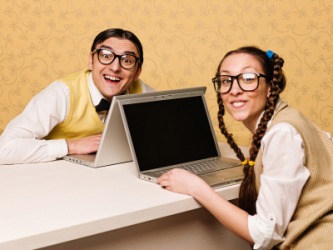 A zany couple.
adjective
The definition of zany is something or someone silly or unusual.

A person who is odd and who doesn't fit the normal mold is an example of someone who would be described as zany.
---
zany
noun
pl.
-·nies
a clown or buffoon; specif., a former stock character in comedies who clownishly aped the principal actors
a silly or foolish person; simpleton
Origin of zany
French
zani
from Italian dialect, dialectal (Venetian)
zani, zanni,
a zany, clown, origin, originally a familiar abbreviation, abbreviated pronunciation of
Giovanni,
John
adjective
-·nier

,

-·ni·est
of or characteristic of a zany; specif.,
comical in an extravagantly ludicrous or slapstick manner
foolish or crazy
---
zany
adjective
za·ni·er, za·ni·est
Comical or ludicrous because of incongruity or strangeness.
noun
pl.
za·nies
A comical person given to extravagant or outlandish behavior.
A ludicrous, buffoonish character in old comedies who attempts feebly to mimic the tricks of the clown.
Origin of zany
French
zani
from
Italian dialectal
zanni
from
Zanni
variant of
Italian
Gianni
nickname for
Giovanni
John, the name of servants who act as clowns in commedia dell'arte
Related Forms:
---
zany

Noun
(plural zanies)
Alexander Pope

Preacher at once, and zany of thy age.

1898, J. Meade Falkner, Moonfleet Chapter 4

So there he caught me lying like a zany on the ground. You may guess I stood at attention soon enough, but told him I was looking at the founds to see if they wanted underpinning from the floods.
Origin
From Italian zanni (a kind of masked clown character), itself (when capitalized) a dialectal form of Giovanni.
---