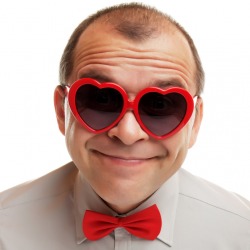 This man's a goof.
noun
The definition of a goof is a silly person, or an accidental mistake.

An example of a goof is a person that makes jokes all the time and can't be serious.
An example of a goof is when a book is printed with an typo on the cover.
verb
To goof is defined as to make a mistake, or to do something to waste time, usually used with "up" or "off."

Make a cake without adding eggs is an example of to goof while baking.
Looking around on the Internet instead of finishing a paper is an example of goof; goof off.
---
goof
a stupid, silly, or credulous person
a mistake; blunder
Origin of goof
probably from dialect, dialectal
goff
from French
goffe
, stupid from Italian
goffo
to make a mistake; blunder, fail, etc.: often with up
to waste time, shirk one's duties, etc.: usually with off or around
goof up
to make a mess of, as by ineptness; bungle
---
goof
Informal
noun
a. A playful, silly, or outlandish person.

b. An incompetent, foolish, or stupid person.

A careless mistake; a slip.
verb
goofed, goof·ing, goofs
verb
intransitive
To make a silly mistake; blunder: goofed up by turning right instead of left.
To waste or kill time: goofed around at the mall.
To tease or make fun of someone: goofed on her younger brother.
verb
transitive
To spoil, as through clumsiness; bungle. Usually used with up: goof up a job.
Origin of goof
Possibly alteration of
dialectal
goff
fool
from
obsolete French
goffe
stupid
---
goof

Noun
(plural goofs)
(US) A mistake or error,

I made a goof in that last calculation.

(US, cinematography) An error made during production which finds its way into the final release.

(prison jargon) A child molester.
Verb
(third-person singular simple present goofs, present participle goofing, simple past and past participle goofed)
(US) To make a mistake.

It's my fault: I goofed.

(US) To engage in mischief.

We were just goofing by painting the neighbors cat green.
Origin
Perhaps from dialectal English goff ("foolish clown"), from early modern English goffen.
---