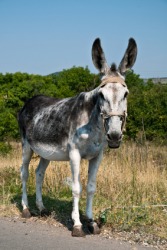 A jackass, ass, or donkey.
noun
The definition of a jackass is a person who is stupid, foolish or offensive, or a male donkey.

An idiot guy who shouts heckles at a wedding and who generally makes a fool of himself wherever he goes is an example of a jackass.
---
jackass
a male donkey
a stupid or foolish person; nitwit
Origin of jackass
jack- + ass
---
jackass
noun
A male ass or donkey.
A foolish or stupid person; a blockhead.
---
jackass

Verb
(third-person singular simple present jackasses, present participle jackassing, simple past and past participle jackassed)
(rare) To behave very obnoxiously.
---