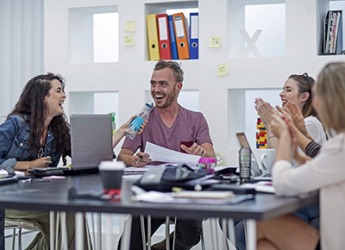 The employees like to be silly every once in a while to lighten the mood in the office.
adjective
The definition of silly is foolish or stupid.

An example of silly is a play with no real purpose or meaning.
---
silly
adjective
-·lier

,

-·li·est
Obs.

simple; plain; innocent
feeble; infirm; helpless

Now Rare

feebleminded; imbecile
having or showing little sense, judgment, or sobriety; foolish, stupid, absurd, ludicrous, irrational, etc.: often used in a weakened sense to mean "unreasonably concerned": don't be silly, it's no bother
frivolous or trivial

Informal

dazed or senseless, as from a blow
Origin of silly
Middle English
seli, sili
(with shortened vowel), good, blessed, innocent from Old English
sælig
, happy, prosperous, blessed (akin to German
selig
, blessed) from
sæl
, happiness from Indo-European base an unverified form
sel-
, favorable, in good spirits (from source Classical Greek
hilasia
, propitiation,
hilaros
, cheerful, merry, Classical Latin
solari
, to comfort); sense development: happy ? blissful ? unaware of reality ? foolish
noun
pl.
-·lies
a silly person
---
silly
adjective
sil·li·er, sil·li·est
Having or exhibiting a lack of good judgment or common sense; foolish. See Synonyms at foolish.
Lacking seriousness or responsibleness; frivolous: indulged in silly word play; silly pet names for each other.
Semiconscious; dazed: knocked silly by the impact.
Origin of silly
Middle English
seli, silli
blessed, innocent, hapless
from
Old English
gesælig
blessed
Related Forms:
---
silly

Adjective
(comparative sillier, superlative silliest)
(archaic) Pitiable; deserving of compassion; helpless.
William Shakespeare (1564-1616)

A fourth man, in a silly habit.

John Milton (1608-1674)

All that did their silly thoughts so busy keep.

Foolish, showing a lack of good sense and wisdom; frivolous, trifling.

I made a very silly mistake.
The newlyweds called each other silly little nicknames.

Irresponsible, showing irresponsible behaviors.

What a silly kid, he's always getting in trouble.

Semiconscious, witless.

The impact of the ball knocked him silly.

(pejorative) Simple, not intelligent, unrefined.

John was prosperous and his helpless, silly father could be of no use to him.

Robynson (More's Utopia)

A silly, innocent hare murdered of a dog.
Noun
(plural sillies)
(colloquial) A silly person; a fool.
(colloquial) A mistake.
Origin
Phonetic variant of seely. From Old English *sǣliġ, "blessed", (attested only in form ġesǣliġ), from Proto-Germanic *sēlīgaz. Cognate with West Frisian sillich, Dutch zalig, German selig. More at sely.
---