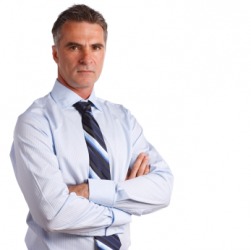 A man with a serious expression.
adjective
The definition of serious is showing deep thought, not joking, or a situation that requires careful thought.

An example of serious is wearing a full suit to a casual dinner; serious attire.
An example of serious is a person who doesn't smile or laugh easily; serious person.
An example of serious is sky diving; serious sport.
---
serious
of, showing, having, or caused by earnestness or deep thought; earnest, grave, sober, or solemn: a serious person

meaning what one says or does; not joking or trifling; sincere
meant in earnestness; not said or done in play

concerned with grave, important, or complex matters, problems, etc.; weighty: a serious novel
requiring careful consideration or thought; involving difficulty, effort, or considered action: a serious problem
giving cause for concern; dangerous: a serious wound
Origin of serious
Middle English
seryows
from Medieval Latin
seriosus
from Classical Latin
serius
, grave, origin, originally , probably weighty, heavy from uncertain or unknown; perhaps Indo-European base an unverified form
swer-
from source Old English
swær
, heavy, sad, Gothic
swers
, important, origin, originally , heavy
---
serious
adjective
Thoughtful, somber, or grave in manner: He became serious when he was asked about the economy.
Not joking or trifling: I was serious when I said I liked your haircut.
Deeply interested or involved: a serious golfer.
Meriting great concern: a serious illness; a serious mistake.
Performed with careful thought: a serious effort to reform tax policy.
Pertaining to important rather than trivial matters: a serious discussion.
Sincerely meant: mistook a sarcastic comment for a serious question.
Intended for sophisticated people: serious music.
Informal Of considerable size or scope; substantial: a serious amount of money.
Origin of serious
Middle English
from
Old French
serieux
from
Late Latin
sēriōsus
from
Latin
sērius
Related Forms:
---
serious

Adjective
(comparative seriouser or more serious, superlative seriousest or most serious)
Without humor or expression of happiness; grave in manner or disposition; earnest; thoughtful; solemn.

It was a surprise to see the captain, who had always seemed so serious, laugh so heartily.

Important; weighty; not trifling; leaving no room for play; needing great attention; critical.

This is a serious problem. We'll need our best experts.

Really intending what is said; being in earnest; not jesting or deceiving; meaningful.

After all these years, we're finally getting serious attention.
Origin
From Middle English seryows, from Old French serieux, from Medieval Latin sÄ"riōsus, an extension of Latin sÄ"rius ("grave, earnest, serious"), from Proto-Indo-European *swÄ"r- ("heavy"). Cognate with German schwer ("heavy, difficult, severe"), Old English swÇ£r ("heavy, grave, grievous"). More at swear, sweer.
---