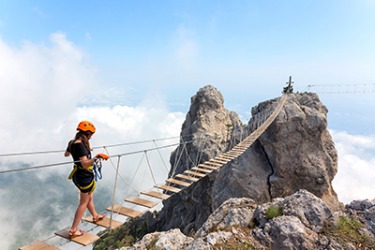 Suzanne didn't think it was a sensible idea to cross the rickety suspension bridge on her trip to Yalta, but she really wanted to prove to herself that she could do it.
adjective
The definition of sensible is someone or something that conforms with the rules of logic and that makes sense given the situation.

An example of sensible is a level-headed person who makes good decisions.
An example of sensible is a good decision that is made.
---
sensible
that can cause physical sensation; perceptible to the senses
perceptible to the intellect
easily perceived or noticed; marked; striking; appreciable
having senses; capable of receiving sensation; sensitive
having appreciation or understanding; emotionally or intellectually aware: sensible of another's grief
having or showing good sense or sound judgment; intelligent; reasonable; wise
Origin of sensible
Middle English from Middle French from Classical Latin
sensibilis
from
sensus
, past participle of
sentire
, to feel, sense
---
sensible
adjective
a. Acting with or exhibiting good judgment; reasonable: a sensible person; a sensible choice.

b. Not ornate or impractical: a sensible hairdo; sensible shoes.

Having a perception of something; cognizant: "I am sensible that a good deal more is still to be done" ( Edmund Burke ) See Synonyms at aware.
Perceptible or appreciable by the senses or by the mind: a sensible difference in temperature.
Origin of sensible
Middle English
from
Old French
from
Latin
sēnsibilis
from
sēnsus
sense
; see
sense
.
Related Forms:
---
sensible

---