unconscious
un·con·scious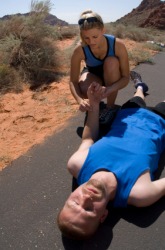 A woman assists an unconscious man.
adjective
The definition of unconscious is lacking awareness or done without realizing, or it is knocked-out, sleeping or comatose.

When you make a gesture automatically without thinking about it, this is an example of an unconscious gesture.
When you are hit on the head and you pass out, this is an example of a time when you are unconscious.
---
unconscious
not endowed with consciousness; mindless
temporarily deprived of consciousness: unconscious from a blow on the head

not aware (of): unconscious of his mistake
not known, realized, or intended; not done, said, etc. on purpose: an unconscious habit, unconscious humor
not aware of one's own existence; not conscious of self
having to do with those of one's mental processes that one is unable to bring into one's consciousness
the unconscious
Psychoanalysis
the sum of all thoughts, memories, impulses, desires, feelings, etc. of which the individual is not conscious but which influence the emotions and behavior; that part of one's psyche which comprises repressed material of this nature
---
unconscious
adjective
Lacking awareness and the capacity for sensory perception; not conscious.
Temporarily lacking consciousness.
Occurring in the absence of conscious awareness or thought: unconscious resentment; unconscious fears.
Without conscious control; involuntary or unintended: an unconscious mannerism.
noun
The division of the mind in psychoanalytic theory containing elements of psychic makeup, such as memories or repressed desires, that are not subject to conscious perception or control but that often affect conscious thoughts and behavior.
Related Forms:
---
unconscious

Adjective
(comparative more unconscious, superlative most unconscious)
(sports) engaged in skilled performance without conscious control.
Noun
(singular only)
(psychology) The unconscious mind
---